Edited to add: We'll select a winner at random today (Wednesday, May 20) at 4 p.m. Quick! Tell us what you're doing this summer with the kids!
Summer is fast approaching and chances are you're starting to think about that upcoming 2 1/2 months. We are. With public school and preschool programs coming to a screeching halt in about two weeks, Gwen and I are cobbling together summer care for our kids mixed with a good dose of pool visits, craft projects and lazy days.
We know we're not the only ones who'd love to hear how YOUR summer will play out. We always learn the most from our fellow mamas. Since everyone has different situations, we'll give you three questions to choose from for a chance to win some delicious food for your thoughts.
Just comment on one of the questions (or all!) and we'll select three moms at RANDOM to win a gift certificate for dinner on the town, courtesy of NWARestaurants.com. We've got gift cards for Copelands, Bonefish and Chili's.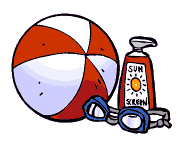 On to the questions:
We know this summer that money might be tight. What's your favorite "budget-friendly"summer activity around NWA or beyond? (Public pool, park, library?)
What are your go-to rainy day activities at home or out and about? (Art supplies on the ready? Local mall? Jump Zone?)
How do you handle summer child care when you work full-time? (Babysitter? Day camps? Relatives?)
If you're shy about posting a comment, please remember that you don't have to give your full name. A first name is absolutely fine. If you've got one of those unforgettable first names, just go with your first initial. But make sure to give us a valid e-mail address so we can reach you if you win (e-mail addresses don't show up with the comment).
Click the word "comment" in the lower right hand corner of this post (under the dotted line) and let us know what you think. We can't wait to see — and steal — your ideas!