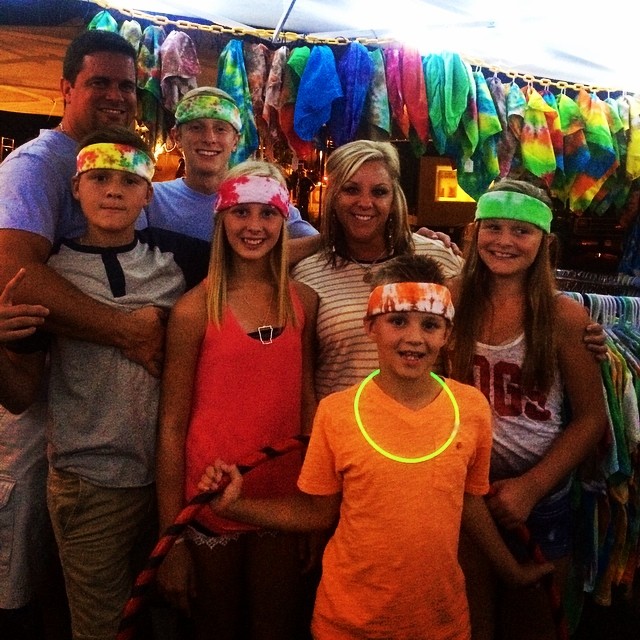 Name: Dina Harrell
Kids' names and ages?
Tanner, 14
Lauren, 12
Carson, 8
Braxton, 15
Berkley, 12
How long have you lived in NWA and what brought you here? I have lived in the Rogers/Bentonville area since 1990.  I originally moved here due to my father being relocated through Wal-Mart.
How did you meet your husband? I met my (future husband) through work.  We had previously gone to school together years ago in Rogers and I was friends formerly with his family.
Tell us about your wedding! Ryan and I will be getting married Saturday, November 22, 2014 at Barn at the Springs.  We are so excited to symbolize our love for one another and begin blending our families officially through a special unity ceremony. What started out as a small wedding vision has grown into the perfect large friends and family setting.
What has it been like to blend a family with five kids? Any secrets you can share? Blending a family of seven is tough, I will not sugar coat it.  However, I wouldn't have this any other way! We are blessed that the blending is teaching us more patience, open communication, trust, respect, and further love.  The balance to give each child individual attention is complex.  Ryan and I both work hard in this area to ensure that all five children know that they are individuals and highly important to the both of us.  Secrets…well there are a few we use!  1. We encourage open communication.  I feel that the children need to express their feelings or this can create unwanted stress under our roof. 2. We limit the children to one friends/sleepover day per weekend.  This allows us the time to blend and learn how to live together. 3. Ryan and I must be on the same page.  We discipline and praise in the same manner.  Having a "united front" is key! 4. Ryan and I having alone time.  We feel it's crucial to any relationship to continue to grow the bond in which led us to marriage and blending.  It is easy to say we have other things to do but we have pledged to one another that this will always be a priority!
What are some of your favorite places to hang out with your family in NWA? We love going to the movies, Fast Lane, and spending time outdoors.
Our children are in the following sports which keep us on the go: High School Football, High School Wrestling, Travel Baseball, Travel Softball, and Competitive Cheer.
What do you enjoy doing when you have a little extra time? I love to work out!  It provides a necessary outlet for me.  I also love to decorate, shop, and travel. (Cool Side Note: Dina is owner of WILD About Learning Academy in Bentonville and she's been a teacher at World Gym for nearly 10  years.)
What's playing on your iPod right now? Taylor Swift's new 1989 album.
What's the best part of motherhood for you? The ability to relate to other mothers and the real stories of life!
What's something your friends might not know about you? Goodness…that's a tough question.  I like to think I'm pretty much an open book.  I wear my feeling on my sleeve and always put others first over my family.  This is something I will be working on!
If you could vacation anywhere in the world this winter where would it be? Cabo.  It is by far my most favorite destination! Not to mention that this mommy needs a break!
What's something you have always wanted to learn? How to speak Spanish fluently. I tried taking lessons this spring while in Brazil but need to continue my studies.
What are three things you always have with you? A memory, my cell phone, and the ability to change someone's day!
What would your ideal day look like? Breakfast with my children and spouse, a calm drive to wherever it is we may be heading, teaching at the gym, a little me time, and counting my blessings at night!
One word to sum me up … Real