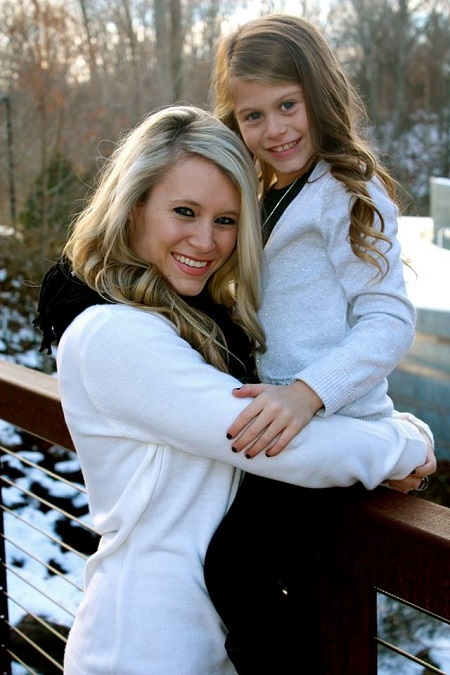 Name: Larra Hayward
Daughter's name and age: Nevaeh Hayward age 8
What advice would you give to other single moms (that you wish you had known)?
Never take time for granted. I believe this applies to parents in general, but being a single mom can make it even harder. Being a single mom means you are the sole provider for your family which can be stressful when you're trying to make ends meet.  It also means you are playing good cop and bad cop when it comes to discipline.  With all the double responsibility of doing it on your own, time can get away from you!
Just remember that they won't always be little! If you don't show them now how valuable they are then one day they might stop coming to you for advice and comfort. You will have missed your opportunity to teach them the important things. They are going to learn it somewhere, it's best that they learn the truth from you.
Where are you from and how long have you lived in NWA?
I was born in Fayetteville and lived there till 2006. I now reside in Rogers and work in Fayetteville, so I get to enjoy the best of both worlds.
Which songs are on your iPod right now?
Music plays a big part in my life. The songs I play the most would have to be things like "Girl On Fire" by Alicia Keys, "Firework" by Katy Perry and "Run The World (girls)" by Beyoncé. I listen to these songs because I constantly want to have positive thoughts of myself and my capability! If you don't believe in yourself then how can you expect others to?
Tell us about your job:
I have spent the last year working for a company in Fayetteville called Data Forms. I sell print and mailing services as well as help with business development. Before switching to Data Forms I worked for an amazing event planning company called Bates Events.
The event world fit mine and my daughter's schedules well while she was young.  I was able to stay home with her during the day and work nights and weekends while my family helped care for her.
Once Nevaeh entered into school her schedule changed. After a year of her being gone during the day and me working nights and weekends, together we decided that it was time for me to find a job that would allow us to have more time together. I was blessed to have been able to find a company that understands my situation and allows me to put Nevaeh first.
Tell us about some traditions you've started with your daughter:
I come from a family with lots of traditions & feel that they are important. One of our newest traditions is something that I picked up from our very own Mrs. Shannon Magsam. It's called "thorns and roses".  You tell one bad thing about the day, your thorn, then you have to tell at least one good thing that happened that day, your rose. It has been a great way to share things about our day and to also keep us focused on the positive parts. Another would be at bedtime, I always lay down with Nevaeh and cuddle with her until she gets tired. This has been such a great bonding experience for us. It seems to be when she shares most of the information about what is going on at school and with her friends. I think it also helps her to feel calm and safe before falling asleep so she sleeps better.
Where do you and your daughter love to play in NWA?
Although I live in Rogers I still feel like Fayetteville has the best parks! We typically go to Walker Park and Gully Park. In the winter we like to go to  Starlight Skatium. Nevaeh is very active.  She always wants to be doing something!
Do you have any special hobbies?
I guess I would say my hobby is dancing. Whether that is in the living room with Nevaeh or taking a ballroom dance class. Dancing is my escape and I have enjoyed being able to share my passion with my daughter.
 If you could vacation anywhere in the world this summer where would it be?
If I could vacation anywhere in the world any time of the year it would be Santorini Greece. The white houses with the blue roof, the clear water that allows you to see all the way to the bottom, the food, the culture… it all just seems mesmerizing! Maybe one day =)
Who would you want to play you in a movie about your life?
That is an easy one, Julianne Hough! I have followed her career since Dancing with the Stars. She is an incredible dancer who turned out to have an amazing voice and is a killer actress! It seems that whatever she does she excels straight to the top.
What's something you have always wanted to learn?
I have always wanted to learn how to sing. My mother has an amazing voice, it's like listening to a bird sing in the spring. Unfortunately that was not a gift that God gave me. I was told once that anyone can sing, you just have to learn how…I am here to tell you that this statement is false! Thank goodness for the shower!
What are three things you always have with you?
#1 MY PHONE! I never go anywhere without it! For me, I'm sure like most people, it has become more like an appendage. #2 accessories! The famous saying "diamonds are a girl's best friend" rings true. Well this girl doesn't have to have diamonds, give me pearls, gold, silver, earrings, necklaces… I don't discriminate. #3 my gallon jug of ionized water… that's right I said gallon. I know how important water is to my health so it's always a must have.
How do you relax at the end of the day?
My most favorite thing to do in the evening is to get into something comfy and snuggle up on the couch with my favorite girl and watch one of our favorite shows! It's the small things, right?