For 50 years, the Elizabeth Richardson Center (ERC) has been successfully serving kids with disabilities in Northwest Arkansas. In fact, they're one of the oldest non-profits in Northwest Arkansas. That's quite a long track record!
ERC is a new sponsor at Motherlode and we wanted to let you get to know them a little better.
ERC has child development centers in Farmington, Fayetteville, Huntsville, Springdale, and Siloam Springs to serve the needs of children from six weeks to five years old with developmental delays or disabilities. We love that they have so many locations, making it so convenient for mamas and kids.
We spoke to Heather Hays, director of children's services, and asked her a few questions about this branch of ERC:
What would you tell moms who wonder if ERC is right for their child?
Families considering ERC are welcome to tour any of our centers to determine if we're a good fit for their family.Parents are able to see the children in our care interacting with our staff, and see first hand the services we offer.Sometimes parents want to visit several times before making a decision, and that's OK too.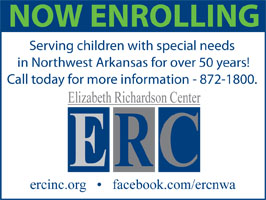 If moms think their child may have a developmental delay, can they receive a free developmental screening?
Our certified teachers can screen children using the Ages and Stages Questionnaire, at no cost to the family.  Based on the results of the screening, and concerns of the parents, certified teachers also complete more in-depth developmental evaluations.
What therapies do you offer?
We provide Occupational, Physical, and Speech therapy to children who qualify for those services.  Each child has an individual plan to specifically address his/her specific needs and work daily with certified teachers and classroom staff to make progress in all areas of development. 
How many therapists do you have?
We have 18 physical, occupational, and speech therapists.
How can the nwaMotherlode community of moms help?
Donations of clothes, shoes, coats, diapers and wipes, and books are one way your readers can help.We hold graduation ceremonies, at the end of June, for children who will attend kindergarten in the fall.We would love to be able to give each graduate a backpack with school supplies, to help them continue their educational journey.

FYI, the Elizabeth Richardson Center also offers job training options to high school students beginning in their sophomore year through its School to Work program. For adults, ERC provides community employment, independent living options, life skills classes, job skills training, recreational activities and community involvement. Click here to visit the ERC website.