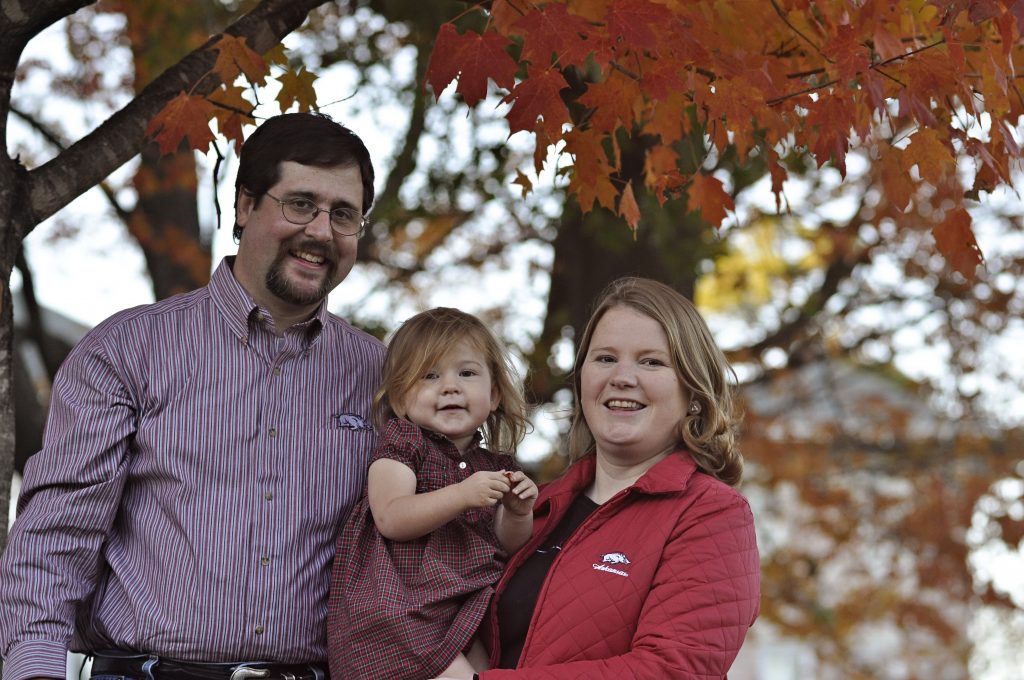 Name: Janeal Yancey
Daughter's name and age: Vallie – 4
Tell us about your job: I'm a meat scientist, a professional meat head. I work at the University of Arkansas and my official title is Program Technician, which means I help the faculty and students with meats research.
I love doing research with undergraduate students (that's with students, not on students). The experiments are usually pretty simple, but helping kids learn how to conduct good research and watching them develop from students into researchers who question the world around them is so rewarding. Several of our students have presented their research at national meetings and have gone on to graduate school, vet school, and into the industry. I'm so proud of them.
Because I have a Ph.D. and an awesome set of bosses, I also get to teach class and work with an undergraduate quiz bowl team. I am the advisor for an Animal Science club, and I have several other projects.
It's all about educating for me. Whether its students in the lab, in the classroom, or at a club activity, I love sparking their interest and helping them learn more and more about meat science and agriculture in general.
I could talk about my job all day.
Can you also tell us about the event you're helping promote, Moms on the Farm? This is one of my 'other' projects.
Like I said, I'm all about education, and in agriculture and the meat industry we are finding that people want to know what we do. Consumers want to know about their food and how it was raised. Most people are several generations removed from the farm and they just don't know much about farming anymore. They get so much conflicting information about food, they don't know what to believe. A recent survey said that a majority of people feel more knowledgeable about doing their own taxes than they do about knowing how to eat healthy.
So, we want to show them where their food comes from.
We are going to host a tour of a dairy and a beef farm in Northwest Arkansas for women (moms) from non-farming backgrounds.
We will leave at 9 am (Oct. 8) on a bus from the Pauline Whitaker Arena and head to Triple A Dairy in Bentonville. It is owned by Susan Anglin and her husband. She has a blog about her daily life as a dairy mom called the Spotted Cow Review. We were out at her farm the other day. I don't know much about dairy farming, and I had a great time! We stood right in the middle of the milking parlor (the barn where the cows are milked) during milking time and we got to pet on some sweet baby calves.
Then, we will get lunch on the bus while we drive down to Lincoln to see Marsh Hedge and her beef farm. She has about 40 cows which is about the average size of a cattle farm in the US.
After the beef farm, we are going to head back to campus for some hands-on cooking demos presented by the Arkansas Cattlewomen. I'm really excited about this part of the day because it brings the whole process full-circle. We will see food being grown and produced, then we will learn how to prepare it for our families.
We are going to have the tourists back to the Arena by 3 pm in time for them to get their kids picked up from school.
We also hope to expand our event in the Spring and add more farms like a poultry farm, a vegetable farm, an orchard, or a vineyard.

Who would enjoy the event and what's the deadline to sign up? Anyone interested in finding out more about where their food comes from would enjoy our event.
This time, we are going to a dairy and a beef farm, but we are going to have several women from agriculture and farming along for the day to answer questions about all segments of agriculture. We have ladies that know a lot about chicken from the Poultry Science department, some cattlewomen, a lady raised on a rice farm in Eastern Arkansas, one that grew up on a dairy in Virginia, and I grew up raising sheep in Texas.
Our event is called Moms on the Farm, but we are not limited to just moms. Anyone who wants to know about food is welcome. We may have a few Aunts on the Farm and Dads on the Farm.
If you want to join us, you just need to contact me, either by email (jws09@uark.edu) or phone 870-688-4247, and I'll get you on the list. There is no cost to attend, and we are going to provide lunch. We need to know how many ladies to expect, so please try to let me know by Oct 1.
Where are you from and what led you to NWA? Where did you meet your husband?  I'm going to combine these two questions. I hope that is ok.
I grew up in a small town in Texas, Cross Plains. It is near Abilene, about 3 hours west of Ft. Worth. I graduated with 26 people. We were the Buffaloes.
I went to Texas Tech University in Lubbock to study Animal Science and become a veterinarian. That plan changed over time, and I decided to go to graduate school to study meat science at Kansas State.
In the meat science graduate office at KSU was a boy from Arkansas. He was working on a Ph.D. He is really the only serious boyfriend I've ever had. When he graduated, he found a job at Tyson back in Arkansas. We did the no-fun-living-apart thing for 2.5 years. When I finished my Ph.D., there was a job open in meat science at the U of A. We lived in an apartment in Rogers for a few months, but we both grew up in small towns, so we quickly found a place to live outside of town, near Huntsville.
Was it love at first sight? Ha. It was more like love at first random fact. I've always been a big nerd and in college my friends used to tease me about my random facts. I just knew lots of random stuff.
Not long after I moved to Kansas, I made plans to go back to Texas for homecoming. (Our town only has homecoming every three years. I missed it this year for the Alabama game.) I invited everyone in the grad office to go with me to Texas so I didn't have to drive the 9 hours by myself. Ed was the only one who took me up on the deal. We spent 18 hours together in the car that weekend. He met my family, experienced Cross Plains, went to my home church, all as my friend, not my boyfriend. We had a great time, as friends.
On the way home, when the road got long and boring, I suggested we play a game where we quizzed each other on the state nicknames. (It was a game I played on the road with my sister. We are nerds.) Not only did Ed play the game with me, he was good at it and he really enjoyed it. Later, both of us admitted that it was that quiz game that made us think, 'I could really get to like this person.' Love over the random facts. BTW, I didn't know that Arkansas was the Natural State. He got me on that one.
If you could live anywhere in the world, where would it be? I love Arkansas, but I would love to be closer to my family in Texas. My husband's family is here, so in an ideal world, we would all just live closer to each other. As long as we are all moving, let's just all move to the beach. That's my answer; I want to live with my entire family, at the beach.
If you went back to college what would you study? I'm very happy with my career. I love being a meat scientist. I wish I could learn more about microbiology and food borne illnesses, history, the Bible, public relations and marketing, childhood development, art, exercising (the only PE class I took in college was racket ball and I dropped it because I was failing), Spanish, literature, the list going on and on… Do all those things fit in one degree plan?
Can you tell us a little about your blog? Well, I'm a mom and when you're a mom, you have LOTS of questions. Is this healthy? Is that safe? I've found that the greatest resource for answering all these questions is other moms. Other moms gave me great advice about all kinds of stuff. My mom, mu aunts, my mother-in-law, ladies at church and work, but even random moms at gymnastics or on an airplane. Moms help each other out.
As a meat scientist, I find myself answering people's questions about meat, as well as all foods and agriculture. Family and friends will call or text me out of the blue to ask me about meat in their fridge, something they've read or seen on TV, or even random things like, 'why is ground beef shaped like worms?'
So, I just put these two parts of my life together. I'm a mom. Moms have lots of questions. I know a lot of stuff about meat. I can help other moms!
That's my goal. I want to help other moms by answering their questions and ease their minds about the things they don't understand about meat.
My blog is called Mom at the Meat Counter.
I've written posts about thawing and food safety, steaks, chicken nuggets, Happy Meals, pink slime, meat glue, and antibiotics. My blog is not about my opinion. It is based on facts and what really happens in the meat industry.
If you had a whole day to yourself what would you do? This has been the hardest question for me to answer. I never have a day to myself. Honestly, I would probably clean my house. If I had a day to myself (and a clean house), I would secretly wish for bad weather so I wouldn't feel guilty about curling up on the couch and watching reruns of Law and Order, Star Trek: the Next Generation, or all the chick flicks I haven't gotten to see.
What's something you've been meaning to do but can't seem to get around to it? I saw this on the internet. I want to take Vallie's art work from school and mail it to my family.
What are some of your favorite things to do with your daughter? When it's just me and Vallie, we love to go to the mall and just wander. I admit, it's much more fun with money to spend. I love to do this at Christmas time. We just wander around and watch people, look at clothes, toys and the new Sperry's at Dillard's.
Last weekend, Vallie and I spent a day in the barn. We washed the show calf and cleaned the muck out of her pen. We caught the baby kittens and played with them. By the end of the day, she was so dirty; I had to spray her jeans off with the hose. (She was not in them at the time.) It was a great day.
We like to do anything that involves shopping and/or animals.
What traditions do you hope to pass on to your daughter? My love of animals and agriculture. I've always loved being outside and working in agriculture. It is a noble profession. We feed the world.
We didn't go on family vacations growing up, we went to sheep shows and pig shows. I wouldn't trade that for anything. I hope Vallie loves it as much as I do. We are also very involved in our church. I try to teach her about giving and sharing with people in need. I've helped with the Operation Christmas Child Program. I want Vallie to have a generous heart.
What's a make-up essential you couldn't live without? Moisturizer.
What would you do with an unexpected infusion of cash? I would hide it from my husband because he would want to buy land, cows, and cow accessories.
Seriously, I guess it depends on how much cash. I might use it to hire a maid or build a new house. Vallie wants a horse, Ed wants a Mustang.
What was the best parenting advice you received? You know how when people ask you how old your child is and you tell them, then they say, 'That's a fun age.' Someone told me one time that every age is fun. Enjoy your kids. Having Vallie was the best thing in the world. She is awesome, and I want to soak up every second of it.
If someone wrote a book about your life right now, what would a good title be? From the lamb barn to the meat counter
One word to sum me up …  Joyful