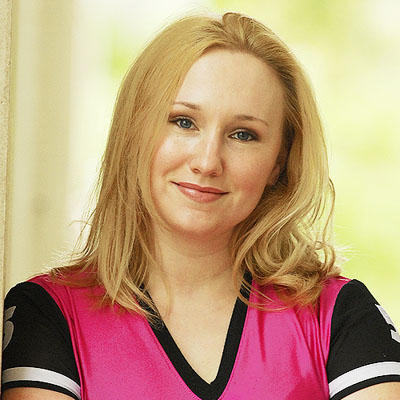 Name: Jessica Kitchens
We understand you have an alias, Blazen Glory. Tell us about it! In 2005 I founded a nonprofit called Fight the Blaze (www.fighttheblaze.org) that helps to educate and prevent childhood sexual abuse. "Blazen" came from that. "Glory" was added after a couple of the derby girls said I needed something with it. It helped that I loved the song Blaze of Glory.
Roller derby is a pretty unique hobby for a mom. When/why did you get involved? I got on league in 2007. I heard about it in 2006 from one of my friends from graduate school who is also on league (The Professional). At that time I wasn't able to join because I was pregnant with my third child, Ryker. I have played sports since I was in the 3rd grade and have always wanted to try a contact sport. This sounded perfect for me. I didn't even have to think about it.
Have you ever suffered a bad injury? Or dealt one out? 😉 Mostly bruises, but I did receive a broken nose during one particular bout. Ironically it was one of my own teammates who elbowed me. Good thing was it didn't slow me down, I kept skating, it just made me really mad. I have also had a fractured finger. I haven't provided any good injuries to my teammates that I am aware of… thank goodness.
Do your kids travel with you to bouts? For the most part no. I am blessed enough to have a husband who steps in and becomes super dad the 3-4 times a year I have to go to an away bout. I think the main reason they do not go is because the travel for most of our bouts have been on average 8-10 hours of a drive.
What are your children's names and ages? Gage Dawson, 9; Kieran Avery Rayne, 6; Ryker Embry, 3
When you're not roller derbying and mommying, what are you up to? I work full time at Vista Health in Fayetteville as an inpatient psycho-therapist. I work mostly with children and adolescents struggling with psychiatric, emotional, and behavioral problems as well as their families. It's tough but rewarding work. My family is also active in our church, where my husband and I help teach a Wednesday night children's ministry. Needless to say we are both very busy.
Where do you live in NWA? We currently live in Springdale.
Where were you born and raised? I was born in Denver, CO, and lived in Colorado until I was 4. My family then moved to McAlester, OK where I lived until I graduated high school. I married my husband a year later and then we both moved to Ada, OK, for college. We made our way to NWA in 2003 when my husband got offered a graduate assistanceship at the University of Arkansas. And we have been here ever since.
If you could live anywhere in the world, where would it be? Oh, that's easy.. Ireland! I talk about it all the time and my hope to at least visit it someday. My second choice would be the Rocky Mountains. I love the Mountains.
If you went back to college what would you study? I would like to get my PhD in Counseling someday. But unless someone offers to pay me to do that, it probably won't happen.
If you had a whole weekend to yourself what would you do? Probably sleep, I am easy. Maybe go get a massage, but yes, definitely sleep.
What are some of your favorite things to do with the kids? When it is nice we love to go to the park. The kids also love the Jumpzone in Bentonville. I kind of like it myself, actually. Those things are fun.
What traditions do you hope to pass on to your children? I hope they understand the importance of sitting down as a family for dinner. I grew up in a home that always sat down for dinner, so I guess it got passed down to me. We also have some Christmas and Easter traditions that I hope they continue in their own families. But, I am also not opposed to them starting their own.
Besides roller derby, what are some of your other interests? I like graphic art and design. Before rollerderby I volunteered many hours designing photo signatures for Mother's using their own pictures, for use in emails and various bulletin boards. I still do my own occasionally, but not near the amount that I used to. I also love to read, crochet, and draw if I have the time. I will also jump at the chance to play some softball and basketball, which were the sports I grew up playing.
What was the best parenting advice you ever received? My Mother and Mother in law were great in the fact that they didn't give me a whole lot of verbal advice, but were great about showing me ways to do things. Also, not sure who it was that told me about the sling, but that was one of the most useful tools to help hold babies and still be able to get things done.
If someone wrote a book about your life, what would a good title be? Anatomy of Exhaustion
What are you listening to on your ipod right now? I am a classic rock girl by heart. I can thank my parents for that. My ultimate favorite is Fleetwood Mac, but I also love Led Zepplin, Tom Petty, Creedence, Bob Seger, etc.
Something you cannot live without? My God, my family, and chocolate.
One word to sum me up … persevering
Note from the mamas: The Arkansas Killbillies (which Jessica is part of) will have its last home bout of the season at 7 p.m. on May 15 at Starlight Skatium in Fayetteville. Doors open at 6 and the show begins at 7. Tickets are $10 online and $15 at the door. All bouts have sold out this season, so keep that in mind!