5 Favorite Fountain Fireworks of 2021
Today is the day, mamas! Fireworks sales inside the city limits of towns in Northwest Arkansas begin today, June 28, 2021.
Our local expert tells us there WILL be a shortage of fireworks this year because of supply-chain problems caused by the pandemic. So this is the year you truly need to shop early if you don't want to end up with the leftovers or no fireworks at all.
If you don't have time to go to a fireworks tent in-person today or tomorrow, you can do what we're planning to do this year — place an order online and then pick it up curbside before July 4th.
We're ordering from our buddy and website sponsor Adam Keeley who owns Pinnacle Fireworks. For the past several years, Adam has helped our readers by providing a Fireworks Buying Guide for Parents. It's full of details about what he considers to be the Top 10 fireworks of the year — with options for every budget level. The buying guide also has info on which fireworks do what, so you'll know what to expect. (There are even options for kids and families who don't want really loud fireworks that might scare little kids or pets.)
This year we asked Adam if he would also put together of list of "Five Favorite Fountain Fireworks." Year in and year out, the fountain-style fireworks are always our favorites because they tend to be big and showy without too many projectiles zooming around that tend to make a mama nervous.
So here we go! Hope you enjoy this list of the best five firework fountains for 2021.
5 Favorite Firework Fountains of 2021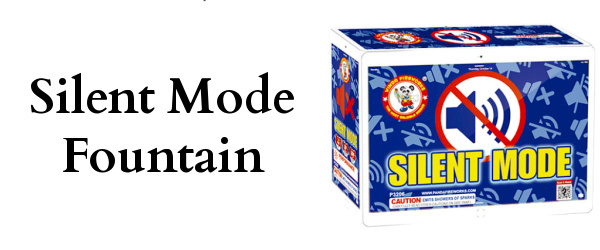 Retail Price $35.94
Pinnacle Price $17.97
Motherlode Price $16.17
Looking for a bigger, longer lasting fountain without the loud crackling or whistles? Shhhh….this fountain is the one for you! At a minute long, the list of effects is subtly impressive! It silently disperses red, green, and purple jellybean sparks, feathery gold hydrangea sparks, blue and silver flowers, and zigzagging color bees…everything except noise!
 Retail Price $49.94
Pinnacle Price $24.97
Motherlode Price $22.47
This big summer treat is sure to be a favorite for the whole family! The colorful packaging hints at what's inside, as this long-lasting fountain (nearly a minute and a half!) features multi-color jellybean sparks, tall sprays of soft glitter sparks, and intense crackling (noise alert) with color pearls! Also look for Cotton Candy Mini, a smaller version of this great fountain!
 Retail Price $60.00
Pinnacle Price $30.00
Motherlode Price $27.00
Standing almost a foot tall, this uniquely packaged fountain is bigger than it looks and lasts a MINUTE AND A HALF! As the alien ship scans the bovine life-form below, it puts on a very colorful performance, including red/green/blue jellybean sparks with cherry flowers, gold crackling chrysanthemums with blue pearls, and green fireflies with purple pearls! The finale includes noisy crackling with color pearls, but then look closely at the viewing window and watch as the poor cow begins flashing while the tractor beam attempts the abduction!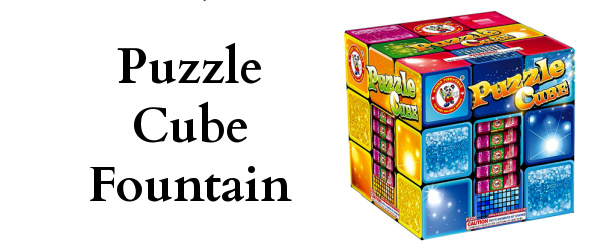 Retail Price $70.00
Pinnacle Price $35.00
Motherlode Price $31.50
Puzzled about which unique fountain to buy this year? Here's your solution! This is one of the coolest fountains out there! Not only does it include 90 seconds of gold willow sparks, strobing fireflies, cherry flowers, and vivid colors like orange and purple, but SIXTEEN colorful ground spinners emerge from the sides of the cube during the performance! Keep this one on a hard, flat surface to give those spinners room to do their thing!
Retail Price $114.00
Pinnacle Price $57.00
Motherlode Price $51.30
You've heard of aerial finale items like 500-gram multi-shot cakes, but did you know we carry a selection of 500-gram finale FOUNTAINS? That's right, a massive finale fountain, and your chance to have the best ground level fireworks display on your block! Grab the popcorn and settle in because this puppy last over 2 MINUTES! The show is filled with glamorous glitter, multi-colored chrysanthemums, and the most intense crackling finale you can imagine! The perfect finale piece for anyone wanting to steer clear of the aerial bursts.
One last tip… There's also a fountain called the "Centrifuge Fountain" that made it onto Adam's Top 10 List this year. For more info on that one, click HERE to see it along with the nine other choices on this year's buying guide for parents.
Happy fireworks shopping! To see more options online, click here.