By Adam Keeley, Pinnacle Fireworks
The number one frustration I hear from fireworks shoppers is, "I don't know what any of these fireworks do! How do I know what to buy?" Over the past few years, fireworks manufacturers have gotten better about putting performance descriptions on their products. However, sometimes the descriptions leave something to be desired.
So, unless you know the difference between Titanium Crackle Rain and Variegated Peonies with Lemon Pistils, you might as well be reading an alien language. If you shop at Pinnacle Fireworks, our knowledgeable staff will answer all your questions and help you choose the perfect items to fit your show and your budget. But in case you accidentally find yourself in some other fireworks tent, here are a few tips that will help you shop for fireworks with the confidence of a true Pyro Parent!
Fireworks Basics
There are two main categories of fireworks: ground effects and aerial effects. Whether you're shooting fireworks with your kids or on your own, it's important to know the difference! An easy way to tell whether an item contains ground effects or aerial effects is to read the warning label found on the item. Ground items will read "Emits Showers of Sparks," while aerial items will read "Shoots Flaming Balls" or "Shoots Flaming Balls with Reports" ("Report" is the industry word for "explosion," meaning the item will burst into a colorful explosion or simply "pop" or "bang"). Some labels will give even more detailed warnings, such as "Spins on Ground and Shoots Upwards." Understanding these caution labels will give you a general idea of what to expect after you light the fuse.
Some examples of ground items are lower-cost kid favorites such as smoke balls, tanks, and fountains. But be sure to note that some fountains can shoot sparks up to twenty-five in the air. Aerial items can reach much greater heights (over 150 feet for some larger fireworks). Examples of aerial fireworks include reloadable artillery shell kits, roman candles, and multi-shot cakes.

So before you go shopping, you should have a general idea of the type of fireworks show you want to create – from a dialed-down driveway display to a rock-the-block pyrotechnic performance. Like most folks, you'll probably want something in the middle, which means a nice mix of ground effects and aerial fireworks that won't break the bank. This list includes both ground items and a few aerial fireworks for those who want to take their show to the next level. Items 1-5 are some great inexpensive items that offer a great value, and items 6-10 are my personal favorites from a few different categories.
** For your convenience and comfort, you can now visit www.PinnacleFireworks.com to order ahead for curbside pickup! You are also welcomed to come visit our 4,000 square-foot open air tent to shop in person! **
I've included three prices on each item:
1) The retail price.
2) The price at the Pinnacle Fireworks tent – where every item is 50% off retail!
3) The price Motherlode readers will enjoy with their discount. The Motherlode 10% discount stacks with the 50% off retail discount! (For online orders, enter coupon code PYROMAMA at checkout. For onsite purchases, just ask for the Motherlode discount at checkout. Be sure to place online orders by July 3rd, since inventory will be sold too quickly on July 4th.)
NOTE: In 2021, the most important thing to remember is to shop early because COVID-19 and the resulting supply chain problems have caused shortages throughout the entire fireworks industry. Supplies are lower this year, and most tents will have empty shelves if you wait too close to July 4th to shop. At Pinnacle Fireworks, you can shop early online and then pick up your order when you're ready.
Budget Friendly Fireworks
Retail Price $5.94
Pinnacle Price $2.97
Motherlode Price $2.67
Smoke balls are a staple at any 4th of July gathering, but it's time to upgrade! These color smoke grenades are FUSELESS! That's right – just pull the ring and the smoke starts billowing. No fiddling with lighters or punks! And not only do you get to choose your favorite colors, but these high-quality smoke grenades last up to 90 SECONDS long!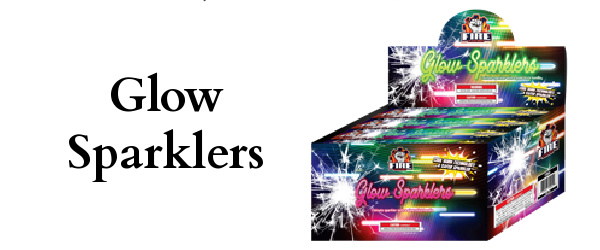 Retail Price $9.94
Pinnacle Price $4.97
Motherlode Price $4.47
If you missed them last year, they're back this year! AMAZING "cool spark" sparklers that burn and throw out sparks just like a normal sparkler, but even though the flame at the tip of the sparkler is still hot, the silvery sparks that emerge are not! I didn't believe it until I put my own hand under the shower of sparks, and it felt like someone sprinkling sand on my palm! But it gets better. We replaced the paper handle with a glow stick! Double the safety, double the fun! Be sure to add this 8-pack to your shipping list, and grab some for the neighbor kids, too!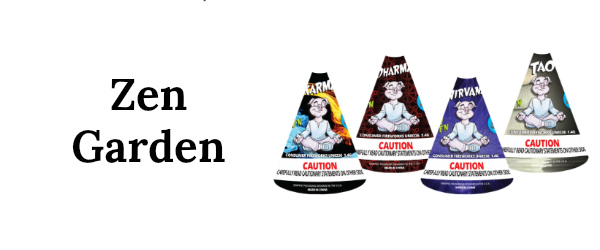 Retail Price $5.94
Pinnacle Price $2.97
Motherlode Price $2.67
Everyone loves to watch the pretty colored sparks of a fireworks fountain dance in the night air. But how many times has your heart skipped a beat when a high-pitched whistle catches you by surprise? Or what about the intense crackling noise that sometimes startles the little ones who aren't yet used to fireworks? At Pinnacle Fireworks, we pride ourselves in our product knowledge. We hand-pick every item we sell, and we won't carry an item unless we've seen it perform. And once we found the Zen Garden fountains, we knew they would be a favorite for moms and dads with little ones or noise-sensitive pets. These fountains are completely free of loud sounds, making them perfect for kiddos who are new to watching fireworks or for anyone wanting to put on a beautiful yet silent show. With four varieties to choose from, you'll be sure to find your inner peace with Zen Garden!
Retail Price $5.94
Pinnacle Price $2.97
Motherlode Price $2.67
Ahhh, parachutes. A standard item in any shopping basket on Independence Day. The perfect item to keep the kids entertained before it gets dark. But aren't you tired of lighting one fuse and only getting one parachute? No more! With these triple parachutes, you simply light one fuse, and watch as 3 daytime parachutes burst in the air with crackling stars and smoke trails! Kids are happy. Parents are happy. America is happy.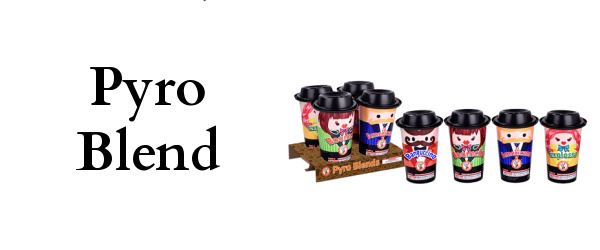 Retail Price $13.94
Pinnacle Price $6.97
Motherlode Price $6.27
Check out these incredible new fountains that are shaped like your favorite cup of drive-through coffee! I'm not afraid to say it, these are just downright adorable! Each one lasts about 30 seconds with a unique mix of effects and colors. Fair warning, what these babies lack in caffeine, they make up for in noisy crackling effects, so they'll be sure to wake you up one way or another! Celebrate this Americana holiday with a cup of Pyro Blend, sold individually. If you like them a latte, you can even pick up a 4-pack with a handy drink carrier tray!
Adam's Recommendations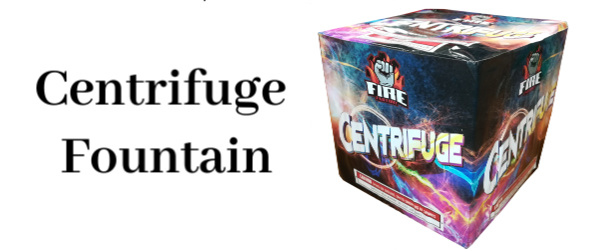 Retail Price $55.94
Pinnacle Price $27.97
Motherlode Price $25.17
My favorite fountain of 2020 returns to the list for 2021! We sold out last year, so we had to bring it back. Sit down and hold on for Centrifuge! This futuristic fountain starts with tons of Chrysanthemums which give way to massive titanium crackling. Then WATCH OUT as the sideways thrusters kick into overdrive. The entire fountain starts to spin at speeds that will make your knees buckle. Centrifuge ends with dizzying showers of sparks shooting in all directions.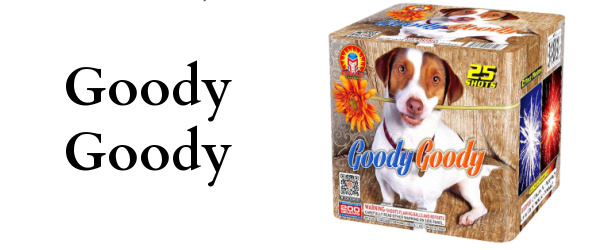 Retail Price $35.94
Pinnacle Price $17.97
Motherlode Price $16.17
This cake will get your tail wagging with 25 shots of red and blue pearls, pink and orange pearls, and TONS of strobes in silver, gold, and green. The big 4-shot finale makes this one not just good, but Goody Goody!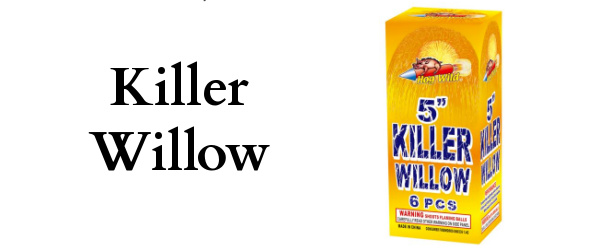 Retail Price $76.00
Pinnacle Price $38.00
Motherlode Price $34.20
Definitely reserved for ages 16 and up, these single-shot shells launch from a reusable tube. If you love those long hanging willow effects, this is the shell kit for you. Make no mistake – these are BIG and LOUD. Each shell has an enormous burst that expands into hundreds of sparkling branches that drift slowly downward from the sky. Includes 2 gold willow shells, 2 silver willow shells, and 2 gold/silver combo willow shells. Plus, this max-load 60-gram shell comes in a budget-friendly 6-pack, meaning the artillery shell lover in your family can get professional-style shells without breaking the bank.
SAFETY REMINDER: Always place launch tube on a hard, flat surface and brace with bricks or similar heavy weight. Keep a safe distance from people, pets, and structures. Make sure you have overhead clearance. Only load and light one shell at a time and never load shells upside down. Questions? Just ask us!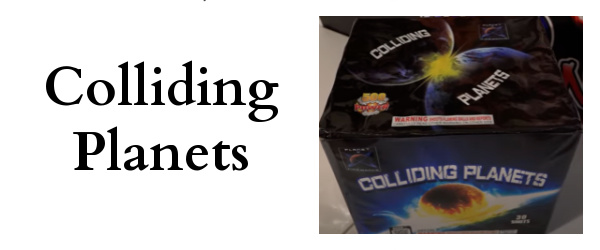 Retail Price $140.00
Pinnacle Price $70.00
Motherlode Price $63.00
This is BRAND NEW item for us, and here's why I love it! It has 30 shots, so it has a great duration; it's filled with gorgeous sky-filling gold willows with various color pistils in the middle; and it has an insane RAPID-FIRE finale built in that will leave your audience with their jaws dropped!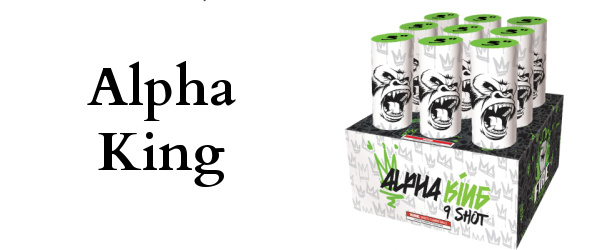 Retail Price $320
Pinnacle Price $160
Motherlode Price $144
If you're looking for the biggest, baddest, and most unique firework around, Alpha King is it! This is as close as you can get to professional style effects! Nine huge shots rock the sky with 3 different effects in each shot. Each shot explodes into a bright Saturn ring of colored stars that light up the night, followed by a smaller inner pistil, and finally a giant outer red, orange, or silver lace peony.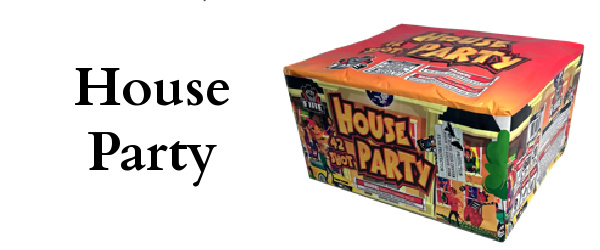 Retail Price $66.00
Pinnacle Price $33.00
Motherlode Price $29.70
No need to BYOB, this mid-range 350g cake has it all! Red, green, blue, and purple stars with silver strobes! Then buckle up for 4 sweepings rows of fast paced red, purple, and green comets with glitter tails and mines! PLUS a built-in finale…Wow!
SAFETY TIP: Never stand over an item when you light the fuse, just in case the fuse burns faster than you expect. Stay low and light from the side, leaving yourself plenty of distance to retreat after you light the fuse. Not sure how to use a certain item or what to expect after you light the fuse? Just ask us! We're happy to help!
Pinnacle Fireworks is located at I-49 and W Don Tyson Parkway (Exit 70), behind Walmart Neighborhood Market on Jennifer Terrace. We are open June 28th – July 5th. Click here to follow us on Facebook for special offers, updates, and lots of giveaways. The Motherlode Mama discount valid June 28th – July 4th.