Farmland Adventures, best known for its giant 9-acre corn maze and pick-your-own pumpkin patch, opens Friday, Sept. 7.
We asked LuDonna Parsons, official Farmland mom (and mom to seven kids who all help out on the farm), to tell us more:
Q: What can families expect to experience when they visit?
We want families to have a place they can come enjoy the day and spending time together. We have tried very hard to have activities that everyone in the family will enjoy.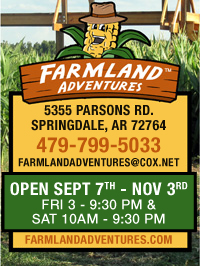 We believe that being engaged and actively doing things together is one of the best ways to strengthen family bonds. That is the plan behind every attraction we have and everything we do. Families and groups can also expect an educational experience while they are here. We try to educate people about agriculture and farming through various methods from signs posted around the farm to field trips. This year, visitors can also learn about our system of democracy and facts about our government in the game out in the maze. We want guests to have a great time out on the farm.
Our attractions this year include: a giant corn maze, mini maze, pumpin patch, pony rides, petting farm, kid's play area (which includes a corn box, straw bale maze and hay bale pyramid), wagon ride, pig races, and campfires. Guests can expect a very challenging experience out in the giant maze. They can also expect to see a wide variety of animals in the petting farm area. We have sheep, goats, pigs, ponies, calves, zebu, donkeys, and even a zonkey. On the wagon ride, visitors can see horses, cows and chickens. We also have a large tent area for guest to relax or have something to eat.
Q: What's new this year?
This year our new attraction is pig races. Pig races will be at select times on regular operating days. We have also added a concession stand so we can expand our selection to guests. We have added more lighting so guests can enjoy the pony rides and petting farm animals even longer. We have added a second pony walker and a second wagon for those really busy days. We now have another campfire and birthday party area also. Another new addition this year is solar panels. We are now producing a portion of our own electricity.
Q: What's this we hear about Mother's Day Out days?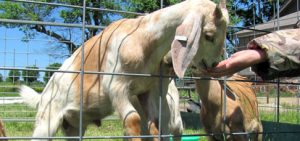 We have set aside three days that we are calling "Mother's Day Out" days. They are September 18th, September 26th, and October 4th. We have special hours and pricing on those days. We will be open from 9:00 – 2:00 pm. The price will be $5.00 for everyone 1 and over. These days will be available to daycares, preschools, mom's groups, or anyone who just wants to come see us. There will be no farmer talk or pig races, but all other attractions will be open (including pony rides). Concession stand on those days will also be limited, so you might want to bring a picnic lunch.
Q: How long will you be open and what are your hours?
We will be open from September 7th through November 3rd this year. We are open on Fridays from 3:00 – 9:30 pm and Saturdays from 10:00 am – 9:30 pm. We will also be open on Thursdays in October from 3:00 – 9:30 pm. We have added three special days on September 18th, September 26th and October 4th that we are calling "Mother's Day Out" with special hours and pricing. We open for groups of 20 or more by appointment Monday through Friday.
Q: Do you offer kid's birthday parties?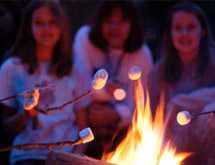 Yes, we host birthday parties. We have even added a second birthday party area. We have a special birthday party package available. Birthday parties get a private, reserved area under our tent. The kids at the parties get to do all of our attractions.
We also host school groups, youth groups, and scout groups. We have campfires that can be reserved by groups also.
Q: Does everyone in your family pitch in to help with the business?
Everyone in the family definitely has a part in the business. We have seven children ages 17 to 3. There is so much to be done that we all have a job to do. The kids help us out tremendously in so many ways, especially the older ones.
Trey, our oldest, helped out with the disking, plowing, planting and watering of the corn. The others help train ponies and take care of all the animals, They help clear the maze path and put up ribbon, for example, as well as all of the other tasks that need to be done. Even the younger ones help with things like planting pumpkins and picking up rocks. It truly is a family operation. Dwain's parents, sister, niece, nephew, aunts, and cousins also help out. Dwain's dad does a lot of the farm work and care of the animals. He can be seen driving the tractor at Farmland Adventures for the tractor ride on some days. Dwain's sister helps with the ponies. My family has helped out also. My parents helped weed pumpkins, for example.
Q: What inspired you to open the farm to the public?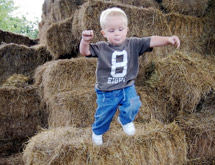 We have always farmed together as a family with Dwain's parents. We have had horses and cows since the very beginning. We then added some chickens, goats, and pigs. Dwain came home one day with the idea of trying something new. We thought it would be a great addition to what we were already doing. We thought this would be something beneficial we could do together as a family as well as an unmatched learning experience for our kids. This seemed like a wonderful opportunity for us. We have a great relationship with our kids and enjoy doing activities with them. We spend a lot of time together working and playing. We wanted to create a place where other families could come share experiences and do things together. We want to help other families build their relationships by having a great time together and creating memories.
CLICK here to visit the Farmland Adventures website or give them a call at 479-799-5033.