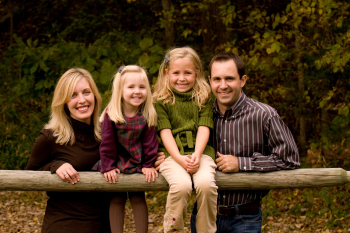 UPDATE: Just a reminder that today is the last day to throw your name in the hat for the family portrait giveaway. We'll announce the winner tomorrow. Good luck!
If you've always wanted a really incredible portrait of your family – something worthy of a spot above the mantle – you're going to be so glad you clicked over here today. We've got the mother of all Motherlode giveaways, and the winner will get a session with local photographer Melanie Merkling and a 20 x 24 print of the photo of her choice, printed on canvas and stretched across a wood frame by professional framer Scott McGowen of Scott Frame & Art (located in Rogers).
If you've ever had professional photographs made before, you know how expensive it can be when you add up sitting fees, printing costs, framing, etc. If you went out and bought this, it would cost around $400.
But we think every mama deserves a chance to have a beautiful portrait of her family – something she can keep forever. So we asked a few of our friends to help us pull it off. Melanie Merkling, whose work you see featured above, is also a contributing writer here on Motherlode. She writes the tips you see in the "Picture Mama" category, and her photos speak for themselves. Click HERE to see more examples of her work on her website.
Once you've got that great photo, you need an equally great presentation of it, which is why we called our friend Scott McGowen of Scott Frame & Art (located in Tuscany Square behind Chick-Fil-A on Pleasant Grove Rd in Rogers). He has framed several family photos for me, and his work is beautiful.

One of the reasons I love his shop is because he uses high-tech computer equipment that lets me experiment with different mattes and frames. The computer program will let you actually see what your photo or artwork will look like with various frames before you commit to one. This tool is WONDERFUL for those of us who have a hard time envisioning what the finished product will look like. No need to imagine anymore. Now you can see it, change your mind, try something else and be certain about your selection before you order. For the winner of this giveaway, Scott will print the portrait on canvas (a huge 20 x 24 size) and stretch it on a frame so it will be ready to hang in your home.
How to enter: Leave a comment on this post by clicking the word "comment" below, or send us an e-mail at mamas@nwaMotherlode.com. As always, we reward those who help us spread the word about the website and our giveaways. So if you send an e-mail to your friends about it, be sure to CC us on the note and we'll put your name in the hat again for every friend you tell, thereby increasing your odds of winning.
A great photograph of your family is something you know you'll enjoy for years, so don't miss out on a chance to win this one. Best of luck to all our fellow mamas. We'll pick a winner at random on Thursday and announce on Friday.