If you don't have an iPhone but are considering getting one in the next year or so, here's the truth about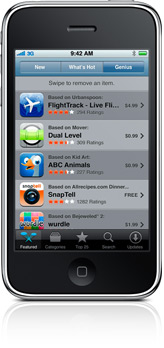 the iPhone and kids. If you put ANY fun applications on your phone, your kids WILL beg you to let them play with it. So if you don't want the kids touching your phone, don't ever download the first kids' app — not even the free ones — because then the floodgates open and you'll be hounding your kids to give your phone back to you.
Having said that, I did download a few free kids' apps on my phone, and the apps have saved my bacon a few times in the doctors' waiting room, in a long line, a car ride, shopping trip, etc.  Here are the ones my kids seem to like best and play most often. Most are educational. Some are just for fun. I want to hear your suggestions, too, so be sure to post comments!

Itsy Bitsy Spider: This one is great for toddlers. Cute, colorful pictures that move around when little fingers touch them. Touch the spider and he climbs the water spout. Touch the clouds and "down comes the rain." Fun music, too. There is a similar app called "Wheels on the Bus" that my 3-year-old likes, too. Cost: 99 cents
Air Hockey: The great part about this app is that two people can play against each other, just like with real air hockey, or you can play against the computer. My boys think this one is pretty cool. Cost: Free
Spin Art: This one is fun for mamas, too! You spin a blank canvas and then throw some paint on it, creating cool designs that you can save on your phone. You can even put glitter on your masterpieces. Fun, fun, fun! Cost: 99 cents
Letter Peek: This one helps reinforce the alphabet for kids who are still learning letters and sounds. When you touch the flash card, you get to peek under the front flap to see a picture underneath that shows something that begins with that letter. Cost: 99 cents
Coloring: Here's another good one for toddlers. Just touch a color and then touch different parts of the pictures to fill in the shapes with that color. Cost: Free
Bounce On Lite: Help the little red bouncy ball navigate through various levels of adventures. That's all there is to it, but the kids LOVE it. Cost: Free
Matching Zoo: I've gotta admit… even I love playing this one. It's a simple game of memory with animal picture cards that have sound effects. (Just turn off the volume if you don't want to hear them.) There is a timer attached so you can try to beat your best time. (So far, my record is 34 seconds.) Even my 3-year-old is getting pretty good at this one. Cost: Free
Sight Words: This one is WONDERFUL for kids learning to read, especially when they're in kindergarten and trying to memorize those sight words. They see the word, read it, then touch a button to hear the word and check to see if they got it right. If they miss a word, you can "flag" it as a word they need extra practice with. There are 300 sight words in the program. Great learning tool. Cost: Free
Doodle Jump: This app got such great reviews online that I decided to try it. It's fun for adults and kids. Just help your little doodle guy jump up and up and up and avoid the pitfalls. Cost: 99 cents
First Words Sampler: This is for kids learning letters and simple three to five-letter words. The pictures are cute and there are sound effects, too. Cost: Free
Doodle Buddy: This was the first kids' app I downloaded, and it's still a favorite. Just use your finger to doodle on the screen with different colors. You can also add stamps that make different sound effects. Cost: Free
I Write Words Lite: I love this one because it's simple enough for toddlers to do it but it's also great for kindergartners, too, who are learning proper letter formation. They follow a cartoon crab in order to draw various letters. An elementary school teacher told me about this one, and it has definitely become a favorite with the kids. Cost: Free
ABC Animals: This one was featured in an iPhone commercial, and the pictures are great. It's not as easy to draw the letters as it is on "I Write Words Lite." But it does reinforce the letter sounds. This one might be better for 4 to 5-year-olds. Cost: $1.99
Hoops Lite: If your kid likes basketball, he or she will love this little app. It doesn't do much, but it does let you shoot hoops and see how many you can make in a certain time period. Fun for "big boys," too. Cost: Free
Brain Quest: This app is based on the Brain Quest cards that have become so popular. You buy the version that matches up to your kid's grade level. They are asked questions in a variety of topics and they earn points and bonus rounds for getting the right answer. My 2nd grader loves this one. Cost: 99 cents
Toddler Teasers: This one helps little ones learn their shapes. The voice says "Touch the oval." Then if you touch the right shape, you hear applause and are given a sticker as a reward. Cost: Free
Which apps do your kids like most? Click the big button below and list the best kids' apps you have on your phone.