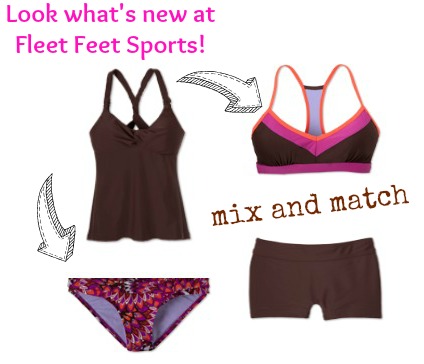 We love it when clothes can multitask as much as the busy women who wear them. These new Prana separates — which arrived recently at Fleet Feet Sports in Fayetteville  — can be worn at the pool, beach AND the gym. They double as swimwear and fitness gear. And we definitely approve of the cuteness factor and the ability to mix and match, as evidenced by the pics above.
If the Prana brand is new to you, it's a high-quality line that really holds up even after lots of trip through the laundry room. (The pieces featured here cost between $49 and $70.) Their yoga pants and running clothes are awesome, too.
Speaking of awesome, I picked up a really cute JUNK headband at last year's Northwest Arkansas Boutique Show and I was happy to find out that the company is based right here in Northwest Arkansas. I bought the wide headband and it really does stay in place, even with thick hair. The print is so cute that I even got a compliment on it from a teenage girl — and we all know how hard it is to impress one of them. 🙂  The print shown below is called "Fire." Love the colors. You can now buy JUNK headbands at Fleet Feet (which is also a nwaMotherlode sponsor).

The clothes and accessories are great, but it goes without saying that the shoe-buying experience at Fleet Feet is truly unique. If it's been a while since a salesperson really tried to help you find exactly what you need and want, then you need to go check them out. Their staff is top-notch and never pushy. Happy shopping!