¶ Fear not, for I am with you; Be not dismayed, for I am your God. I will strengthen you, Yes, I will help you, I will uphold you with My righteous right hand.'  Isaiah 41:10 (NKJV)
By Bro. John L. Cash, "Country Preacher Dad"
I have had a pretty crummy week. My family is doing fine, but among my friends and parishioners there has been tremendous stress and sadness. I will be undertaking some incredibly difficult tasks in the next few days. On top of that, I have had a horrendous head-cold. Years ago, I asked an older man how he was feeling on a particular Sunday morning. He replied, "Preacher, there are people in the hospital who feel better than I do." (He must have had the same flu-like illness that I've had.) The local Methodist preacher used to say, "Some days are diamonds, and some days are dust." Well, the days of this past week sure haven't been gemstones.
Recently, I have been reading the autobiography of Saint Therese of Lisieux, a nun who lived back in the 1800's. She wrote that during the time that she was preparing to enter the convent, the Lord often sent weather that matched her spiritual condition. On a morning when she was having doubts, the Lord sent clouds of drizzling rain. But the day that she took her Holy Vows was like a perfect morning of springtime—even though it was actually in the midst of winter.  I had to laugh in spite of myself yesterday. There was sleet slapping me in the face while freezing rain was running down my back. My "outside" matched my "inside" so closely that I wondered if the Lord is making me a saint, too. 🙂
That being said, in spite of everything, I'm feeling pretty happy this morning. I'm remembering some advice my mother gave me several years ago. When facing a time of similar stress and strain she said, "John, how about not getting 'all bent out of shape' this time?  Why not just take it all in stride, and ask the Lord for His help? And then make the best of it as you go along." Well, I tried it then, and it worked pretty well—and I expect a good result this time. The same God who helped us in the past is always with us in the present and the future. I've learned that we are always strengthened when we put our faith in Him.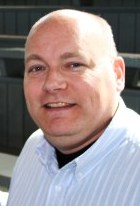 Dear mamas, let's hope for Spring and put our trust in the One who brings the changes of the Seasons. Say a prayer for me this week. From our house to yours, all the best to you, with Grace and Peace.
Dr. John L. Cash is the "Country Preacher Dad." He was raised in Stuttgart, Arkansas, and has spent the last 25 years being a country preacher in the piney woods five miles south of the little town of Hickory, Mississippi. (On week days he works at a public school.) He and his lovely wife, Susan, and his sons, Spencer (age 19) and Seth (age 16) live in the parsonage next door to the Antioch Christian Church (which is presently "iced-in" even as a type.) He would love to hear from you in an email sent to jcash@scott.k12.ms.us.