1 ¶ Behold what manner of love the Father has bestowed on us, that we should be called children of God! Therefore the world does not know us, because it did not know Him. Acts 11:26  (NKJV)
By Bro. John L. Cash, "Country Preacher Dad"
For over a year now, Spencer has been dating a girl named Madeline. Everyone in our family adores Madeline. (Even Seth is very fond of her, and he is pleasantly grumpy like an 80-year-old man a large part of the time.) She is a lovely girl. She's intelligent, has nice ways, and is present at the Methodist church pretty much every time the doors are open. These are very good things. My mother, the boys' grandmother, says Madeline is a "Georgia Peach."  I don't know what that means—because Madeline isn't from Georgia—but I'm sure it means something good. I'm guessing that "Georgia Peach" is probably a phrase that was cool to say back in the 1940's when my mom was a teenager. (Personally, I'm especially fond of Madeline because she reads my column every week and sometimes forwards it on to other people. :-))
Back around Christmas, it was time for all of us to "meet the parents." So, Madeline's parents graciously invited us all to their house for dinner. (Please notice that this was the "Meet the Parents, Our Kids Are Going Steady Meeting", and not the "Meet the Parents, Our Kids Are Engaged, Home Edition."  Big difference.)
I must admit, although I was greatly looking forward to dinner, I was also very nervous at the prospect of it all. I wanted to get the visit exactly right. I didn't want to do or say anything that would embarrass my son. I didn't want to talk too much and be a "conversation hog." But then again, I didn't want to be a phony and sit like a bump on a log and not say anything—because that's not the real me. So, I just said a prayer and endeavored to do my best.
We had a wonderful dinner with Madeline's parents. They are a wonderful family. And when the evening was over, the first thing I asked Spencer in the car was, "Well, did I do all right?"
I was so thrilled with his answer. He said, "Dad, you did great. The way I look at it, you couldn't have done any better. You didn't talk too much. You didn't fly off on any strange tangents. But, you were pleasant, and you were yourself. I think you and Mom did great!"
Later on that evening, Madeline sent Spencer a text that he shared with his mom and me. When the evening was over, the first thing that Madeline's dad did was to ask her, "Well, did we pass?"
(And Madeline assured them that they did.)
Now I think there's a lesson in here somewhere. Although kids usually don't see it or believe it, parents really don't want to embarrass their kids or mess up their lives. You see, in this story, both sets of parents are sweating bullets, wanting to do things exactly right for the benefit of their children. I can't express how much parents want to do good things for the children. It just flows out of a parent's love. And I don't know anything on earth that's any stronger than parents' love for their child. It's so strong that it is simply indescribable.
Now if this is how earthly parents love their children, what kind of love must our Heavenly Father have for His children? Today's Scripture lesson (at the top) gives us a big clue: "Behold what manner of love the Father has bestowed on us, that we should be called children of God!"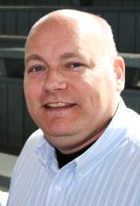 Live a life of love for your Heavenly Father this week, and teach your children to do the same. You know we will meet Him some day.
Dr. John L. Cash is the "Country Preacher Dad." He was raised in Stuttgart, Arkansas, and has spent the last 25 years being a country preacher in the piney woods five miles south of the little town of Hickory, Mississippi. (On week days he works at a public school.)  He and his lovely wife, Susan, and his sons, Spencer (age 20) and Seth (age 16) live in the parsonage next door to the Antioch Christian Church (where we are looking forward to meeting Seth's new girlfriend soon.) He would love to hear from you in an email sent to jcash@scott.k12.ms.us.