We recently noticed the cutest Valentine's Day cards at Chick-fil-A that we think would be perfect to give a teacher, friend or even your honey.
The outside of the card has a picture of one of Chick-fil-A's delicious shakes and a coupon for a small hand-spun shake inside. At $2.99 a pop, this is a sweet deal! And don't those Chick-fil-A shakes in the picture above look delicious? Who wouldn't fall in love with such a great card?
The message inside the card says: "Hope it's good to the last slurp! Happy Valentine's Day" Then on the inside flap of the card it says, "He satisfies the thirsty and fills the hungry with good things." Psalm 107:9
Speaking of shakes, we found a couple of great recipes for this yummy dessert. Perfect for the kiddos — or their hard-working mamas — as a Valentine's Day treat.
Double Chocolate-Marshmallow Milkshakes
Recipe Courtesy Bobby Flay for Food Network Magazine
DIRECTIONS: Whisk 1/2 cup heavy cream (ideally extra-cold), 1/4 cup marshmallow fluff and 1/8 teaspoon vanilla extract until stiff peaks form; set aside. Combine 1 cup cold whole milk and 1/4 cup chocolate sauce in a blender. Add 3 cups chocolate ice cream; blend until smooth. Fill 4 glasses one-quarter of the way with the shake; add some marshmallow cream, then more milkshake, then cream, then milkshake. Finish with a dollop of marshmallow cream and garnish with grated bittersweet chocolate.
OREO Milk Shake, KraftRecipes.com
What You Need: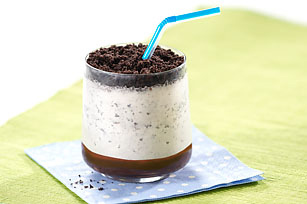 4 tsp. chocolate syrup
8   OREO Cookies, divided
1-1/2 cups milk
2 cups  BREYERS® All Natural Vanilla Ice Cream, softened
Make It:
SPOON 1 tsp. syrup into each of 4 glasses. Roll each glass to coat bottom and inside of glass. Finely chop 4 cookies; set aside.
QUARTER remaining cookies; place in blender. Add milk and ice cream; blend until smooth.
POUR into prepared glasses; top with chopped cookies. Serve immediately.