1 ¶ Better is a dry morsel with quietness,
      Than a house full of feasting with strife.  Proverbs 17:1  (NKJV)
By Bro. John L. Cash
I watched "A Christmas Without Snow" this week. I'd seen it before, way back in 1980, when it was a made-for-television "CBS Movie of the Week."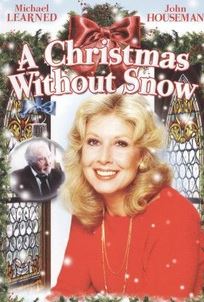 I think I watched it with my grandmother, who wanted to see it because actress Michael Learned was in it. (Memaw liked Michael Learned, because she played John-Boy's mother, Olivia Walton.)
If you've got an extra hour and a half, I recommend watching this little treasure.
Sometimes when I watch a holiday movie, it makes me homesick for Christmas. But this time it was different. Watching this movie made me homesick for 1980.
In the very early 1980s, I was a Bible college student. I spent the school year on campus with my dearest friends, busily studying God's Word. When the semesters ended, I spent summertime and the holidays living at home with my father, mother, and maternal grandmother. My sister, brother-in-law, and baby niece lived across town. I was a part of a very loving little congregation and I had the friends and loved ones I had grown up with.  It was a happy time, to be surrounded by that much love. I think I even realized how special it was back then.
For some reason, "A Christmas Without Snow" made me think of the Saturday nights of that time. Now, just the phrase "Saturday night" conjures up a picture of "big nights on the town." But my happiness at the end of the week was exactly the opposite. Saturday night was the night when all the people I loved were at home.
Late in the afternoon every Saturday, my mother and grandmother would start to lay out the picnic food we would be eating — things like brown bread and white bread, good lunch meats, cheese, chips, lettuce, sliced tomatoes, dill pickles, and cookies. My father would be watching "Hee Haw" and my mother would say, "Leonard, call so-and-so and ask them to come over and eat a sandwich." He would make the phone calls. The guest list would include the regulars, our loved ones and friends. But my parents and grandmother also had another group of guests in mind:   "Those who don't have anybody." (I didn't realize it at the time but the thing they didn't have was "anybody" to keep them from being lonely Saturday night.)
Every Saturday night we had a steady stream of visitors, all eating sandwiches, talking and laughing. We didn't do anything too exciting—just lots of fun and visiting, and the Lawrence Welk show on in the background. But to me it was a little slice of heaven.
Now here's the surprising thing. In some ways I liked Saturday night better than Christmas. Of course, Christmas is a bigger and better holiday than Saturday. But Saturday had a wonderful vibe to it, if only for its simplicity. After all, people get tired and irritable and stressed on Christmas. But the preparation and fuss for all those Saturdays was minimal. Every Saturday was a little Christmas to me; all the joy and none of the stress.
It's kind of sad we can't go back in time. But one thing we can do is bring what we've learned in the past into the present. Settle down your expectations for Christmas Day, and set aside your perfectionism. When your babies are grown, you want them to remember the peace that comes from the arrival of the Saviour.
From our house to your house, gentle Christmas blessings….
Dr. John L. Cash is the "Country Preacher Dad." He was raised in Stuttgart, Arkansas, and has spent the last 32 years being a country preacher in the piney woods five miles south of the little town of Hickory, Mississippi. He recently retired after 28 years as a Mississippi public schoolteacher, and is now a stay-at-home-grandpa with his new grandson, Landon Cash.  He and his lovely wife, Susan, live in a brick house in town (where everyone will probably share a sandwich sometime this week.)  Their kids include Spencer (age 26), his wife Madeline (age 26), and Seth (23), and his wife Leanne (age 22). You can send him a note at brotherjohn@ilovechurchcamp.com.