7 ¶ Two things I request of You (Deprive me not before I die):
8 Remove falsehood and lies far from me; Give me neither poverty nor riches-Feed me with the food allotted to me;
9 Lest I be full and deny You, And say, "Who is the LORD?" Or lest I be poor and steal,   And profane the name of my God. Proverbs 30:7-9   (NKJV)
By Bro. John L. Cash, "Country Preacher Dad"
When Spencer was a little boy, I onced asked him about his opinion of our financial situation and standard of living. He said, "We have a good life. We aren't rich. We aren't poor. We're just medium."
I thought it was a very good answer, and I liked it. And even though I've never met all my readers, I have a sneaking suspicion that his words probably sum up your situation, too. You have a good life. You're not rich. You're not poor. You're just medium.
Did you know the Bible teaches that "just medium" is the best financial category a person can fall under? That's because there are real dangers to being either too rich or too poor.
In today's Scripture lesson (at the top) we read the prayer of a man named Agur. It's recorded for us in the book of Proverbs. Agur asks the Lord to to keep him from poverty because if he became poor he might be tempted to steal, and this would dishonor God. On the other hand, Agur asks the Lord to never make him wealthy, because if he became rich he might be tempted to become proud and forget his Creator.
I've always told my sons that I didn't want them to have everything they wanted because that would be harmful to them. Instead, it's always been my prayer to be able to provide them with  all the things they needed along with some of the things they've wanted.
I'm so thankful to the Lord that this is the way He has always provided for us — for His Word tells us that when we are "just medium" we are in fact "truly blessed".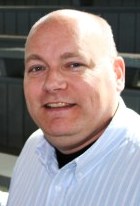 Dr. John L. Cash is the "Country Preacher Dad." He was raised in Stuttgart, Arkansas, and has spent the last 26 years being a country preacher in the piney woods five miles south of the little town of Hickory, Mississippi. (On week days he has a desk-job at a public school and teaches Latin on closed-circuit-television.)  He and his lovely wife, Susan, and his sons, Spencer (age 20) and Seth (age 17) live in the parsonage next door to the Antioch Christian Church (which is filled with a bunch of "just medium" people.) He would love to hear from you in an email sent to jcash@scott.k12.ms.us.