25 Let your father and your mother be glad, And let her who bore you rejoice.
Proverbs 23:25  (NKJV)
By Bro. John L. Cash
This morning I'll be preaching my yearly Mother's Day sermon in front of my congregation. But I gave my first "Mother's Day talk" in front of a large crowd of people a very long time ago. To be precise, it was on April 28th, 1967 at my end-of-the-year kindergarten program.
As a pastor, I try not to be long-winded. But back then the lesson I delivered was even shorter. Each of the students in my class approached the microphone and said a single sentence about why God made mothers. I still remember mine: "Mothers are for feeding your cat when you forget."
It's funny what each of us remembers about our childhood. After the program I asked my mother why the audience laughed when I recited my line. I wasn't upset or embarrassed, but I just didn't understand what anybody would find humorous in the statement. My mom said something about, "Well, little boys are just learning to take care of animals, so it might be hard for them to remember to feed their pets. So sometimes little children need quite a bit of help."
Even after she explained it to me, I still didn't get the joke.
Now that I'm older, I understand the humor. I've come to realize that in order for something to be humorous, it first has to have a grain of truth in it. And the truth of my childhood statement is this: One of the main jobs of a mother is to teach their children to do things, and to remind their children to do things until they're old enough to remember to do those things on their own.
That's an ugly job, but somebody's got to do it.
Well, just like that, 47 years have passed. Not too long ago I found an old black-and-white photograph from that kindergarten program. There I am in my plaid sport coat, wearing a pressed white shirt and a bow tie, in freshly polished shoes — all the clothing my mother had so carefully prepared.  There I am standing up straight (as my mother taught me) to deliver the line my mother had helped me to practice so diligently. She believed all those things were important.
And as I looked at the old photograph, I realized something. Even though I'm over 50 years old, the things my mother said were important back then are still important to me now. I always wear a suit coat and a tie when I preach, and my shirt is always pressed. I make sure my church shoes are polished. I stand up straight when I preach, speak up so people can hear me, and study so I'm prepared to know what to say. And when I get home, I always feed the cat.
And so, to all the mothers out there this morning, I wish you the happiest Mother's Day ever. Continue on in teaching your children because all your work is going to bear a harvest of good results when your babies are older. And to my own mother, Peachie, I wish you a happy Mother's Day with all my love. Thanks so much for loving me and raising me and teaching me so many important things so I can have a happy life now.
And thanks for feeding the cat when I forgot.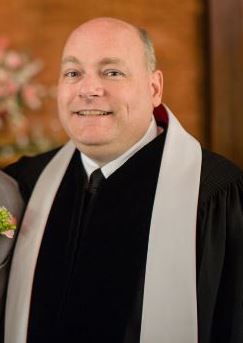 Dr. John L. Cash is the "Country Preacher Dad." He was raised in Stuttgart, Arkansas, and has spent the last 28 years being a country preacher in the piney woods five miles south of the little town of Hickory, Mississippi. (On week days has a desk-job at a public school, and until recently taught Latin on closed-circuit-television.) He and his lovely wife, Susan, live in the parsonage next door to the Antioch Christian Church (where we postponed the usual "Second Sunday Potluck" so the mamas wouldn't have to cook today.) Their kids include Spencer (age 23), his wife Madeline (age 23­­­­­­­­­­­­­­­­­­­), and Seth (age 19).