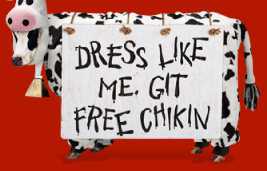 It's time for the annual Chick-fil-A Cow Appreciation Day! Dress head-to-hoof like a cow and receive a free meal at Chick-fil-A on Friday, July 9! Bring your kids along because calves get free meals, too, during this corporate-wide event.
If you're too "chicken" to go to Chick-fil-A completely decked out like a cow, you can still get a free entree for adding a touch of cow to your regular outfit — a cow headband or cow purse will do nicely.
Here are a few pointers from showusthecow.com for dressing like a cow. You may already own a Cow costume for your child, but if you don't, there are lots of ways to make one. Use your imagination, or try one of these ideas:
Cow #1: Have your child wear all-white clothing and attach black construction paper "spots" to your outfit. Add a paper tail if you like. Attach Cow ears to a headband, decorate flip-flops or sandals with black spots, and the Cow costume is complete!
Cow #2: Use an old white pillow case or sheet and draw black spots on it. Cut out holes for the head and arms. Add a tail to the back, and attach some floppy ears (try white socks!) to a hat. Add some black paper spots to the child's sneakers to complete your look.
Cow #3: Use white poster paper to create a "sandwich board" Cow outfit. First decorate two large pieces of poster paper with black spots. String the two pieces together at the top to go over your shoulders. Attach Cow ears to your child's favorite cap or visor, and add black spots to a pair of white knee socks. You're done!