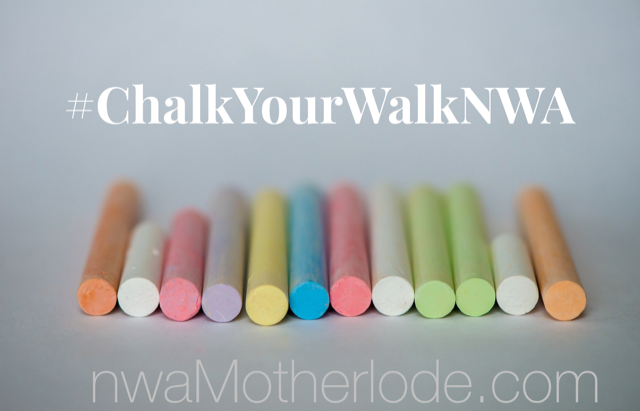 Since we could all use a little sunshine and joy in these quarantine times, we invite you to join us this week for Chalk Your Walk Northwest Arkansas.
Playing along is easy: Just create inspiring art and/or write encouraging messages on a nearby sidewalk or your driveway. Or, put a surprise message on the sidewalk of a neighbor or friend (just drive by and leave your mark!). Do it anytime this week before the end of Friday, March 27, 2020.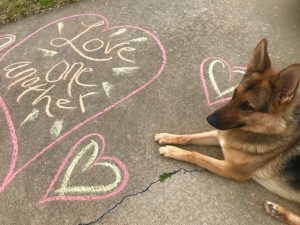 Then take a picture of your chalk art and share it on our Facebook post about the event — or email your photo to us.
Use the hashtag #ChalkYourWalkNWA on social media.
At the end of the week, FIVE lucky winners (chosen at random) will win a canvas print from Scott Frame and Art! Keep in mind that you and the kids do NOT need to be great chalk artists to win the canvas photo print prize. The winners will be chosen at random because we want as many people as possible to get out in the sunshine, sit on the sidewalk and bring a little joy and/or inspiration to the people who may be traveling that same sidewalk at a later time. (Remember to stay 6 feet apart if your neighbors are also chalking the walk!)
If you are randomly selected as one of the FIVE winners, you can get a 16×20 gallery-wrapped canvas photo print of almost anything you like — a favorite photo of your kids, your kid's artwork, or even your chalk creation. You choose!
We want to thank Scott Frame and Art for partnering with us on this fun giveaway. We know local moms are't getting out to shop much these days (except for toilet paper!) but you can stop by Scott Frame and Art online and drool over their beautiful work. AND… keep in mind that since so many of us are going to be home for a while, it's the perfect time to do a "freshen things up" project around the house.
Here's how Scott Frame and Art is making home decor/photo projects easier, in light of current circumstances. They're offering free pick-up for framing, virtual design functionality, free delivery, and discounts on printing (including art-on-demand), custom framing, and installation.
We know there is a lot going on currently, so we wanted to offer our biggest deals ever to help with framing, printing, installation, and more!! check out these fabulous deals from your favorite local framing store. #sfa #fayettevillearkansas #bentonvillearkansas #rogersarkansas #nwa #nwarkansas #shoplocal #supportsmallbusiness

Posted by Scott Frame and Art on Friday, March 20, 2020
When things get back to normal, you can visit Scott Frame and Art in Rogers, Fayetteville or Bentonville. Click here for a map to each store location.  Keep up with the latest announcements and product arrivals by following Scott Frame and Art on Facebook.
Are you feeling inspired now? Good!
Ready, get set, chalk your walk!