By Andi, Beauty Buzz Editor
I have a confession to make.
I am absolutely awful about washing my face at night. I was lucky to have clear skin as a teenager (being a painfully late bloomer was the trade-off) so I never got into the habit. As I got older, I knew I needed to start all of the "grown-up" bed time rituals so that I didn't look like the crypt keeper by the time I was 35, but every time I tried new products I got overwhelmed and quickly gave up.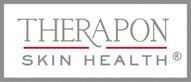 With all of the eye creams and exfoliating treatments and blue stuff you always had to shake really well, I had to read the directions every night and if it takes me more than 5 minutes, I'm not going to do it…not with a comfy pillow and my DVR calling my name. So, when I was offered a free trial of the Therapon Skin Health line of skin care (approximately $150 for system), I was hopeful that I would find something that was perfect for my lazy, face-washing ways.
When the box with my Theraderm Skin Renewal System arrived there were 4 boxes of soaps and lotions and I was already dreading it. But when I read about them it seemed really simple. You apply all 4 products the same way every day, so there is no rotation or trying to remember if you already exfoliated that week, and everything is safe enough to apply around your eyes all the way to your lashes.
There are 4 steps to follow, and the bottles are numbered 1-4, which I thought was delightfully idiot-proof. The Cleansing Wash was the only thing that I had to rinse off. The Fruit Acid Exfoliant is a liquid applied with a cotton pad; much better than the gritty exfoliators I am used to using. The OPC Reparative Gel is quickly added on with my fingertips and I finish with the Enriched Facial Moisturizer. I actually had my husband time me while I washed my face, in the name of research, and it only took me one minute and 15 seconds, which was doable even for me.
The moisturizer can be a little heavy if you have oily skin, but it worked well for my dry face and neck. I thought my skin looked better and definitely felt better when I woke up the next day.
I also got the Reversion Acne Control System for my husband to try. He has sensitive skin and was breaking out where he had to shave and his old system didn't seem to be working anymore. Surprisingly, the acne kit only contained 2 products, the Reversion Antimicrobial Wash and the Reversion Acne Medication. Getting a detailed review from him was like pulling teeth, but his skin has cleared up and he has not had any other breakouts since he started using it. He also enjoyed the ease of only having to do two steps at night instead of the 3-4 he was used to.
The products can be ordered online at www.theraponskinhealth.com, and if you have any questions about usage there are consultants available. You can even consult with a physician for difficult situations. CLICK HERE to check out their July special.
Full disclosure: Andi was not paid by the company to write this review. She received the products for free so she could test them and write her true opinion.