By Andi Douglas, nwaMotherlode Beauty Editor and local mama of 3
Usually, by this time of year we've all been gradually introduced to the sun after winter hibernation, sitting outside at baseball games, playing tennis with friends, running outside instead of on the treadmill. But now we went from locked in our rooms to bursting out of our homes to sit poolside or hit the lake. And that kind of instant submersion in the UVs will inevitably lead to sunburn.
If you weren't prepared, like someone I know *points to my own flaming red chest*, then here are a couple of soothing products to help out.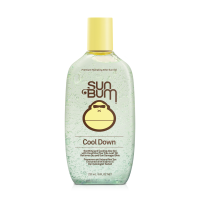 Store this Sun Bum Cool Down Hydrating After Sun Gel in the refrigerator for an extra refreshing post sun treat. Even if you're not suffering from over exposure, this is a great post workout moisturizer to help you cool down as the summer keeps getting hotter. Or colder, or wetter… it's 2020, I wouldn't be surprised if it snows at this point.
I particularly like that Johnson's Baby creamy oil with Aloe and Vitamin E is fragrance-free. If you were a teen in the 90s you probably made the mistake of putting Bath and Body Works Cucumber lotion on a fresh sunburn and immediately regretting it as your body started itching like crazy.
If you didn't react to the lightening of restrictions by releasing your inner teenager and metaphorically giving the sun the finger, then you may be more interested in preventing a sunburn. I try to use a tinted BB cream with SPF under my makeup everyday, but on days where I don't wear any makeup, which are more often than not lately, I get off my routine and forget. Then I end up using whatever random sunscreen I have for the kids on my face.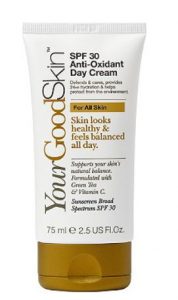 Keeping a formula specially made for facial skin like YourGoodSkin SPF 30 antioxidant day cream in your bag is a great way to make sure you're protected even when you're on the go.
If you are trying to accommodate any situation without having a 30-pound pool bag to lug around, Hawaiian Tropic Antioxidant + Sunscreen Lotion SPF 50 is a highly rated all around sunscreen for any situation.
Lotion is always better for consistent coverage and I know a lot of us avoid spray lotions with little ones who may inhale the fumes, but sometimes trying to get all the water or sand off a kid for a refresh is like trying to put leggings on a squirrel. Sun Bum Original Sunscreen spray is the best spray sunscreen available, according to Good Housekeeping's 12 Best Sunscreens to protect your skin.
Since no sunscreen provides full coverage, no matter how high the SPF or how often you apply, it's still a good idea to wear protective gear, like a rash guard and a floppy hat. There was a time in my life where I would have died of embarrassment if someone said I had to cover up at the pool.
But now after the quarantine 15, I'm not only in favor of more cover but leading the revival of 1920s swim dresses.
Even though it's made for fishing, the relaxed style of the Magellan outdoor fishing shirt is perfect for hanging poolside or hiking with the family. And if you venture out to one of the trials like Tanyard Creek, you can even cool off in the water with the kids and don't have to worry about a sticky cotton shirt for the rest of the day.
A rash guard like this adorable find on Amazon, would match any basic bottoms that you already own or any athletic bottoms so you can stay safe when exercising outdoors and then head straight to the pool to cool down.
If you spend a lot of time on the lake or in a slow moving canoe, you have probably come home with aching, sunburned thighs and calves. These high waist swimming tights will protect the skin we tend to forget about when applying sunscreen, which can help protect from wrinkles or freckling.
I will admit, I teased my brother-in-law about his straw hat with face shields when I saw pictures from a recent family camping trick, but we want him around for many more years so I'm glad he's being responsible. I tend to grab a baseball cap to keep my face covered because it's the easiest way for me to deal with my hair. If you are the same, remember to sunscreen your ears! The most miserable I have ever been was when I wore a black ball cap to the beach and neglected my ears. I couldn't sleep because I could hear my heartbeat in my ears so loud that it kept me awake!
For the first time ever, I'm the one begging my kids to go to the pool so I can safely interact with other humans. And kids don't count as humans anymore. After being cooped up the last couple of months, they neither behave nor smell like anything human I recognize.
Happy Summer, Mamas!!!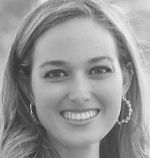 Got a beauty or hair question for Andi? Send it to us so she can write about that topic in an upcoming Beauty Buzz. Email it to mamas[at]nwamotherlode[dot]com. Click here to read more beauty posts by Andi.