By Andi Douglas, nwaMotherlode beauty editor
Hooray for warm weather and sunshine, Northwest Arkansas! It's officially summer.
Now that it's swimsuit weather, I need to hightail it to the drugstore for some self-tanner.
I'm sure we all tried self-tanner in high school, and it resulted in orange palms, streaky forearms, and a lot of ruined bras, making us swear of the stuff for good. But, with the push on the dangers of sun exposure, we are all searching for alternative tanning methods. Beauty companies have answered our pleas by  perfecting their formulas and developing better ways to apply.
The unwanted side effects of sunless tanning can be avoided before you ever open the bottle.
Here are some tips: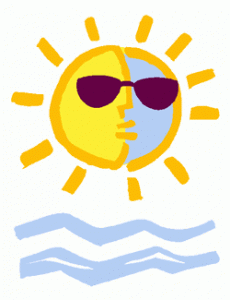 The golden rule to a consistent glow is exfoliating. An exfoliating product with a gritty texture will remove the most dry skin. They are also really easy to make at home. Pay special attention to your elbows, knees and ankles, or anywhere you've noticed darker spots in the past. For some reason, I always have problems around my collar bone, so I give that area a second pass when I exfoliate.
Next, lotion your whole body and wait about ten minutes before applying tanner, to give the lotion time to sink in. If you put some lotion on your hands immediately before application time, it will help keep the color from clinging to your palms. This is also a good idea for under your arms and behind your knees.
Now, it's time to pick a product.
As far as a color goes, this can take a little trial and error, since different brands have varying formulas based on your skin's undertones. Specialty beauty stores, like Ulta and Sephora, will often have samples to try or employees trained to help you determine your coloring.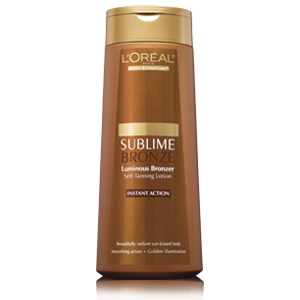 If you are still having flashbacks from your senior pictures where you looked like you bathed in Sunny D, you may be a little reluctant to try DIY tanning again. Products like Jergens Natural Glow Daily Moisturizer are tanning solutions mixed with a lotion so the effects are more gradual and take several applications to see a huge result. But, the margin for error is much smaller.
If you can't wait, L'oreal Sublime Bronze has an instant bronzer, which shows immediate results and will also help achieve even coverage. Other formulas can take a couple of hours to show their full effects. 
Now the fun/scary part: Applying The Tanner (in my head that sounded all echoey and ominous).
The main rule is to be consistent and make sure you get it everywhere the sun would touch; so, not on the soles or heels of your feet. After it is thoroughly rubbed in, take a dry washcloth and gently buff your knees, elbows and ankles, because no matter how well you exfoliated, those dry spots will still soak up more tanner. If you apply tanner to your face, use the washcloth on your eyebrows and along your hairline as well.
Wait at least 10 minutes before putting on your makeup and clothes, and opt for loose fitting clothes when possible. This is another benefit from DIYing your tan, instead of going to a spray tan joint. I just can't bring myself to walk all the way to my car at a strip mall bra-less.
Women with darker complexions also benefit from a little bottled sun. Even though you may not be blinding people with your bare legs (sooooo jealous), tanner can help even out your skin tone and gives off a warm, summery glow.
Now, dig out your sun hats and go play outside! I highly recommend a Nerf gun fight with your kids; it's very therapeutic.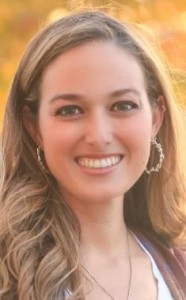 Andi loves playing with makeup/beauty products and writing about her experiences. She welcomes your questions and feedback at Beauty Buzz. E-mail her at mamas@nwaMotherlode.com.