By Andi Douglas, nwaMotherlode beauty editor and mama of 3
Spring Break is approaching here in Arkansas and many of you are probably preparing to hit the road.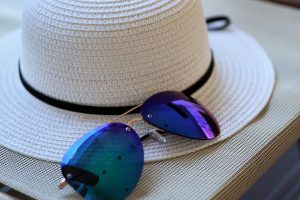 It's a weird vacation time because some of you will be bundling up and heading North to ski, while others will be peeling off layers as you travel South to the beaches. I'm going to Texas. Super exotic, I know. Try to contain your jealousy.
Whether you're heading for snow or sand, when Spring rolls around it's always nice to shake off that winter pallor and add a little color back to your skin. Unfortunately, it's been impossible to go outside to soak up a few natural rays without tying bricks to your feet first. How crazy was that wind last week? Are your trampolines okay?
Thankfully, the world of self-tanners has progressed leaps and bounds since the early '00s and you no longer need to fear looking like an orange when you try a DIY tan.
Jergens has been a staple on any Best Tanner list from the beginning. Their approach to subtle color and commitment to moisturized healthy skin makes them a favorite. The Jergens Natural Glow Daily Moisturizer for Face is perfect for you snow bunnies because it also has an SPF of 20 to help protect you from the rays bouncing off all of that white snow. No one looks good with a goggle tan line, trust me. You can also get a handy travel size of the classic Jergens Natural Glow to stash in your bag so you can be hot tub ready.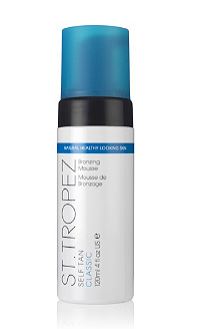 I am usually the cheapest of cheapskates, but after seeing photos of real people's results I had to check out the St. Tropez Classic Bronzing Mousse. It is available at Ulta for $18 for a travel size to $42 for an 8oz bottle. If you have time to have it shipped, QVC has a special for 2 8 oz bottles for $50 and includes the applicator mitt. (By the way, the video on QVC is mesmerizing, even though the presenter stole her look from Wilma Flintstone) From what I have gleaned from online reviewers, the mitt is crucial to the perfect application and worth the extra purchase if you buy at a store like Ulta.
I really like the idea of the easy to use mist application of the Nuetrogena Micromist Airbrush sunless tanner. The "one-touch continuous spray works at any angle, so you can cover hard-to-reach places, including your back." Sold! I still think it would be easier to have an extra set of hands to help with application in hard to reach places, but I trust my husband way more with a spray than I do with a lotion.
And of course, the Golden Rules of self tanning:
Exfoliate really well before applying. Seriously, the self tanner will cling to any dry spots and create blotchiness.
Make sure you are completely dried off after your shower before applying. Any water drips could cause streaking.
Moisturize your elbows, knees and heels before application, even if you are using a moisturizing tanner. These notoriously dry spots will absorb more tanner causing unsightly splotching.
Wear gloves! Unless you are using a special applicator, like the mitt mentioned above, your hands will be continually exposed to the tanner as you apply and you may end up with unnaturally dark palms.
Wait until you are completely dry to put your clothes on, at least 15 minutes. Some formulas dry faster than others but better safe than sorry. Then wear something baggy and comfy for a few hours.
Wait before showering again.Every tanner is different but 4 hours is a pretty good amount of time. If you can, apply a couple of hours before going to be bed and then rinse off in the morning.
If your results don't seem dark enough, wait until the next day before reapplying. Some self tanners continue to work for hours after the application.
If you are traveling, have fun, be safe, wear your sunscreen and make lots of memories.
Even the insane "my kid threw up in line at Disney World" stories make for great family lore. If you are planning to stay home and let everyone relax and watch tv for 5 days straight, you're my spirit animal.
Try to carve out some me time and treat yourself with a little faux glow. Lock your bedroom door and just slip fruit snacks under the door to keep the wild ones at bay.
Happy Spring Break, Mamas!!!!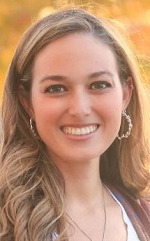 Got a beauty or hair question for Andi? Send it to us so she can write about that topic in an upcoming Beauty Buzz. Email it to mamas[at]nwamotherlode[dot]com