By Liz Emis, mama to Jack and another on the way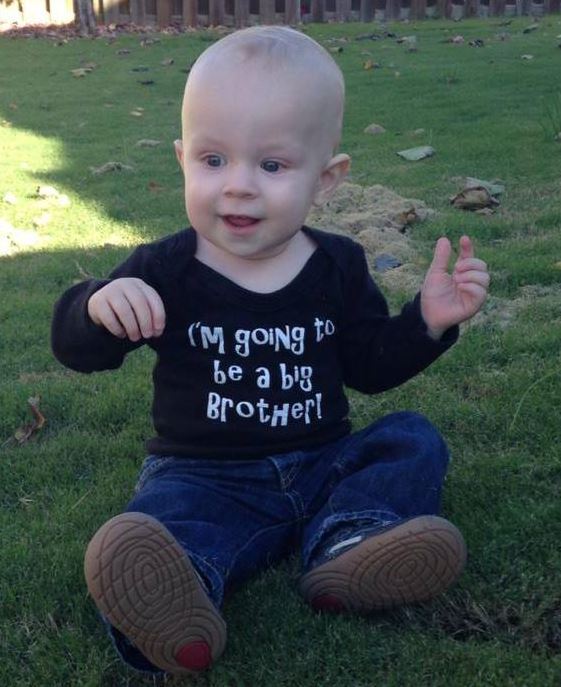 Jack just celebrated his first birthday! (And we announced baby #2!)
I can't believe we made it through the first year. Moms you know: the first birthday is just as much a milestone and recognition of your accomplishments as it is a celebration of the toddler you've helped develop.
Our son got overloaded with love that day and also overloaded with presents. In light of holiday shopping coming up, here are a couple of gifts I highly recommend, especially if your child, like mine, enjoys figuring things out.
You can almost see the wheels turning in his head!
An Activity Cube:
We like vintage toys that teach in addition to entertain, and this gift has it all. It's tall enough that your one-year-old can stand to play with it, its four sides have musical elements and abacus-like activities for learning colors, shapes and numbers, and it also has a matching game for animals. The top usually has a colorful winding wires that pass through a wooden town and allow your child to move cars and shapes through them. We bought ours at Once Upon A Child in Rogers for about $30, but you can find them brand new on Amazon between $40 and $100.
Melissa & Doug:
This is a toy brand you can easily find at Target, TJ Maxx, Tuesday Morning and Amazon. They promote classic toys from our childhood, and just like our family, believe more classic toys allow the child to use even greater imagination.
Jack received several puzzles by Melissa & Doug and they all teach new concepts. Each puzzle piece is either very thick or has a big knob on it, allowing your toddler to easily remove it. There is a picture of the puzzle piece underneath on the wooden board, so Jack could learn new concepts through matching the picture to the piece. They come in themes like colors, shapes, vehicles, animals and so on.
Jack's favorite is the farm themed puzzle he received from a close friend of ours. These puzzles cost about $12 to $15 retail.
Melissa & Doug also offers "make your own sandwich" kits, clocks for learning to tell time and coloring books.
I hope this helps in your holiday shopping plans. Enjoy the season!
Save