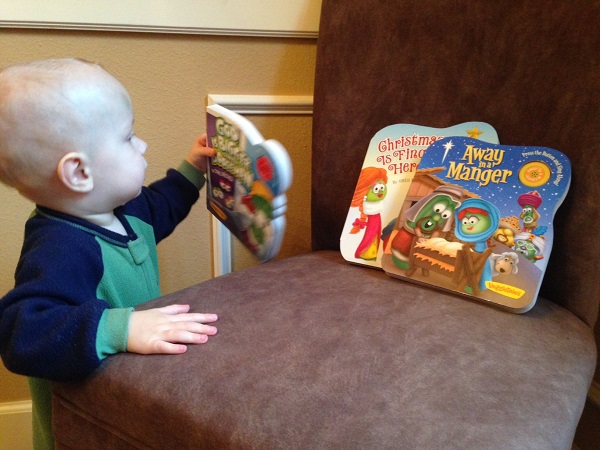 By Liz Emis, mama of 1 and 1 on the way
With Christmas just around the corner and our family in a tizzy over the announcement of baby number two, shopping for presents for Jack seemed to become a last-minute thing.
Today, let's discuss some great gifts that are available just about anywhere that stimulate your child's imagination, but don't break the bank!
Our house is busy saving money for the pending May 2015 arrival of baby William Jonah. With that in mind, plus Jack having been loaded up with toys for his birthday in late October, I've been hunting for fun gifts that don't cost much.
At 13 months old, Jack is really enjoying our morning reading time. He's pointing to pictures on the page and tries to mouth the words that match the images. But mostly, he likes one book in particular, his Veggie Tales board book titled "I Thank God for this Day." Why? Because it has a music button that plays a song!
Veggie Tales is a line of plush dolls, toys, games, DVDs and books that center around a bunch of vegetables who practice good values.
While many of the stories they tell are Biblical, there is a large variety of non-Christian affiliated toys as well. One of Jack's favorite videos is a play on Star Trek featuring Bob the Tomato and Larry the Cucumber!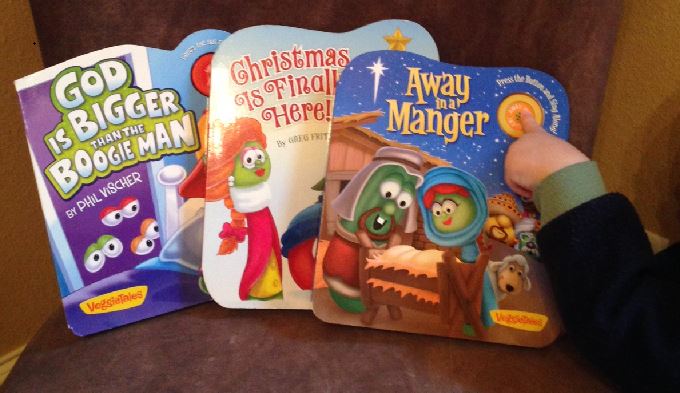 But back to the books. Available of Amazon and at Sam's Club, these books cost about $10 apiece and I promise you, they entertain enough to be well worth it! As you can see in the pictures, Jack discovered we bought him three more of these for Christmas and immediately went for the music button!
They all teach simple lessons like obedience, kindness and generosity. You can't go wrong instilling those values early. They also are made out of hard enough board to stand up to immense amounts of chewing and drool!
These are great books to ingrain the love of reading in your child, especially if they love sound. Hopefully Jack won't find these before Christmas Day.
I'm considering leaving the music button unwrapped on each book and seeing whether he even cares to unwrap them!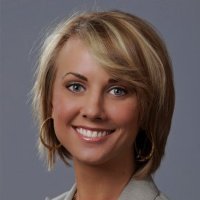 About Liz: Liz Emis has spent more than 12 years in the communication industry. Beginning on the East Coast as a reporter for outlets like The Boston Globe, Orlando Sentinel and The Baltimore Sun, she moved to Northwest Arkansas in 2004 to write for the Arkansas Democrat-Gazette. Three years later, she transitioned to public relations, branding and marketing, working on both the agency and client sides. In 2010, she added product development to her résumé, spending more than three years at Tyson Foods, Inc. in Springdale, Ark. Liz welcomed her first child, Jackson Gaines Emis, to the world in October 2013, and now uses her communication and organization skills as a stay-at-home mother to her eight-month-old son. As a domestic engineer, Liz has added financial analyst, counselor, chef, project manager, teacher, diagnostician, comedian, housecleaner and efficiency expert to her skill set. She can be reached at lizkemis@gmail.com.