By Liz Emis, mama of 1 and 1 on the way
Happy New Year! With a new year and a new baby due in May, my husband and I decided we would resolve to watch our spending and only buy what we thought would be most important for bringing a second baby into our home.
Jack will be almost 19 months when Will is born, so the following product suggestions are both for Will and to help this mama maintain some sanity!
Since Will is arriving in the throes of Jack's toddlerhood, and our son already is a climbing machine, I first recommend getting some kind of rocker or swing that's elevated. It will, well, it might, make it easier for me to get things done around the house while also keeping Will safe from his big brother's poking and prodding.
After a ton of research, I've chosen the Graco DuetSoothe Swing and Rocker.
This swing allows me to rock the baby either back and forth or side to side. It has a myriad of music and speed options. But the best part? If Jack is just a little too interested in the new baby, the seat easily detaches from the base and rocks on its own.
This way, without interrupting Will, I can place him on the dining room table while I cook or bring him with me into a different room. It also has a vibration mode in case Will prefers that motion to the swing.
Graco also sells a similar model swing that becomes a bouncer. While I considered this one, we already have a bouncer from when our first son was born, so it's truly up to you. This retails for $179.99 and can be found at Target. Come late May, I'll let you know if it was worth every penny!
Next up: a nursing chair. I bought one when Jack was born, but I wasn't pleased. My back hurt from bending over to nurse in the low chair, and neither Jack nor I were ever really comfortable.
Anyone will tell you that if you've got the money, there's no better nursing chair than those at Pottery Barn, but $1,000+ is out of my price range.
I honed in on a model by Little Castle, available at both Target and Amazon. Little Castle gliders and recliners are designed specifically for nursing mothers with thick cushions, wide arm rests and tall backs, allowing you to rest your head and lean comfortably.
They come in modern and traditional designs and colors and at Target, range from $450 to $600. You can also find matching ottomans for propping your feet as well.
Here's a shot of the one I'll be buying to match Will's navy, white and orange nursery color scheme. (Their website is very detailed as well, showing you dimensions and fabric options.)
This next selection is purely for second children and beyond. Jack hasn't even noticed that my belly has gained 20 pounds, but he will surely notice when his needs are met a little later than usual. So to make the transition easier for him, John and I bought some books to read to him about bringing a new baby into the home.
Most books about being a big sibling are for older children, say three years old or older, but we found one that's highly rated for children under two. It's called My New Baby with artwork by Rachel Fuller.
It's a short board book with only a sentence or two per page, perfect length for an 18-month-old. And the illustrations are of daily life in the house: having lunch together, the new baby nursing and the big sibling eating a sandwich, or the family taking a walk and then preparing for bedtime. It's a great introduction to what life will be like using moments that Jack already recognizes.
You can find this book and others in the series at local bookstores and Amazon for about $5.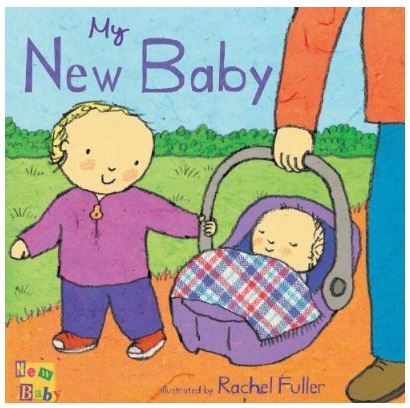 With these items and a bunch of diapers, I'm hoping we are set up for success. Fingers crossed, and I'll update you on what worked once William makes his entrance in a few months!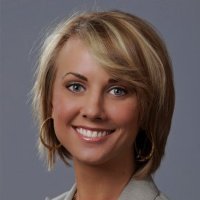 About Liz: Liz Emis has spent more than 12 years in the communication industry. Beginning on the East Coast as a reporter for outlets like The Boston Globe, Orlando Sentinel and The Baltimore Sun, she moved to Northwest Arkansas in 2004 to write for the Arkansas Democrat-Gazette. Three years later, she transitioned to public relations, branding and marketing, working on both the agency and client sides. In 2010, she added product development to her résumé, spending more than three years at Tyson Foods, Inc. in Springdale, Ark. Liz welcomed her first child, Jackson Gaines Emis, to the world in October 2013, and now uses her communication and organization skills as a stay-at-home mother to her eight-month-old son. As a domestic engineer, Liz has added financial analyst, counselor, chef, project manager, teacher, diagnostician, comedian, housecleaner and efficiency expert to her skill set. She can be reached at lizkemis@gmail.com.
Save