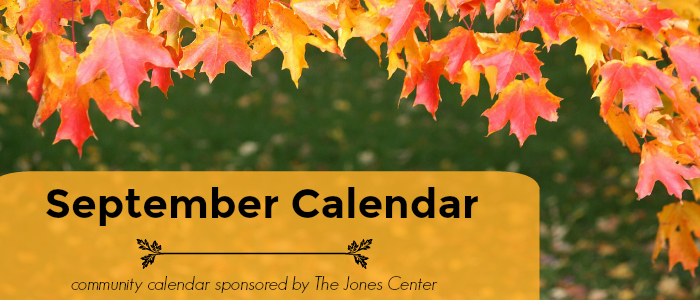 Note from the mamas: Be sure to take a look at our Fall Fun Guide for more ideas for things to do this season in Northwest Arkansas! Click here to see the post!
First Thursday Fayetteville
Break up your back-to-school routine and join us on the Downtown Square for First Thursday in September. Celebrate with art, live music and activities for the whole family.
LIVE MUSIC!
Main Stage: 412 West
Kids Stage: Jugglology
OUTDOOR FUN!
Art walk featuring local artists and vendors
Activities for the whole family
FOOD AND DRINKS!
Local food Trucks + Beer Garden
Date: Thursday, Sept. 1
Time: 6-8:30 p.m.
Location: Fayetteville Square
More info: Click here
First Friday Bentonville, Sugar Creek Days
The Bentonville Square is transformed into a Sugar Creek Day blockparty with live music & entertainment, outstanding food options and family friendly activities. Sponsored by popchips.
11am | Food Trucks Open
On Mainstage
5:45-6:10 | The Leslie Serrano Band
6:45-8 | The Sons of Otis Malone
4:30, 6:20 | Holmes Brigade Minstrels
5:30, 6:30 | Bank Robbery Re-Enactment in Front of Arvest
There will be loud gunshots during re-enactment.
Don't forget to check out the FREE First Friday After Dark concert at Meteor Guitar Gallery at 8pm featuring Foleys Van.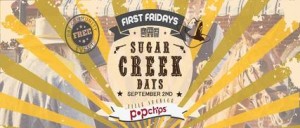 Date: Friday, September 2
Time: 11-8p
Location: Downtown Bentonville
More info: Click here
Light Night Party
The Fourth Annual Light Night takes over the space around Buckyball with a glowing evening of creative chaos, featuring music by Deadhead Productions with popular North Carolina-based funk band The Fritz and retro-pop country duo Jazz Mills. Light Night has something for everyone with light-art tinkering stations with Amazeum, black-light graffiti drawing, and special light-art installations by Highberry Music Festival. Enjoy artmaking zones by Amazeum, Crystal Bridges, and local artist Jenn Gilder. Bring your own LED lights for dancing, or show off your illuminated style in a Light Night-inspired costume! A cash bar and food will be available.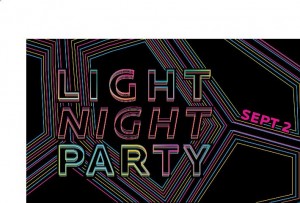 During the event, Museum Way and the Additional Parking Lot will be closed. Parking will be available at Orchard Park and at the Amazeum from the North Entrance.
Free, no registration required.
Date: Sept. 2
Time: 8-11 p.m.
Location: Crystal Bridges Museum
More info: Click here
8th Annual Fayetteville Film Fest
The 8th annual Fayetteville Film Fest will be held at locations around the downtown Fayetteville Square.  A record-setting 55 films (including feature films, documentaries, short films and animated films) will be screened over the course of the five days of the festival.  In addition to the impressive lineup of films, the week will also feature panel discussions, Q&A sessions with the visiting filmmakers and workshops with industry professionals.
Date: Sept. 6-10
Time: Varies
Location: University of Arkansas Global Campus Theatre, Fayetteville
More info: Click here
39th Annual Ozark Quilt Fair
Antique and new quilts for show and sale. Music by Working Class Grass, miniature quilt display by the Itty Bitty Quilt Committee.
Date: Sept. 10
Time: 10 a.m. to 2 p.m.
Location: Shiloh Museum
More info: Click here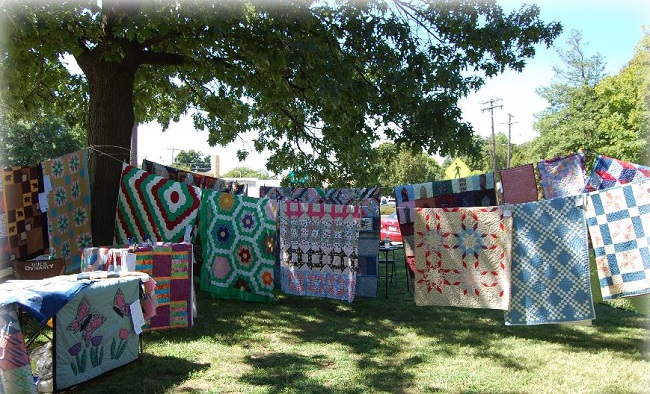 Dog Days, Bentonville Farmer's Market
Bring your furry companions out to the Farmers Market to celebrate all things dogs. Schedule:
10am- Dog Parade- Meet in the street outside of Walmart Neighborhood Market
11am- Dog Contests- Register at the DBI tent in front of the Walton 5&10 and compete to win some great prizes in the following categories:
Cutest Adult Dog
Cutest Puppy
Best Trick
Best Costume
Date: Sept. 17
Time: 7:30 a.m. to 1 p
Location: The Bentonville Square
More info: Click here
The Junk Ranch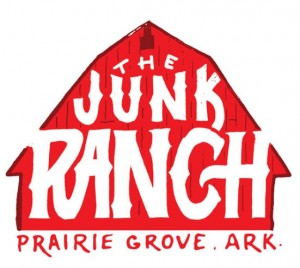 100+ vendors will fill the barn, large tents, the house & the grounds with vintage, antique, handmade, repurposed, jewelry, boutique, salvage & much more. There will be live music playing on both days & some food vendors. Friday, September 30th (Early Shopping Day): 12 – 7pm…… $10 Admission. Early Shopping Tickets are good for free return entry on Saturday. Saturday, October 1st (General Admission): 9am – 5pm….. $5 Admission.
Parking is free; kids 12 & under are free.
Date: Sept. 30, Oct. 1
Time: See in description above
Location: 11195 Centerpoint Church Rd., Prairie Grove
More info: Click here
The Northwest Arkansas Calendar of Events is sponsored by The Jones Center for Families in Springdale. There's ALWAYS something fun happening at The Jones Center, plus they have all kinds of classes for adults and kids — and great birthday party options at the indoor swimming pool, gymnastics or ice skating rink! CLICK HERE to visit the Jones Center website to see more!