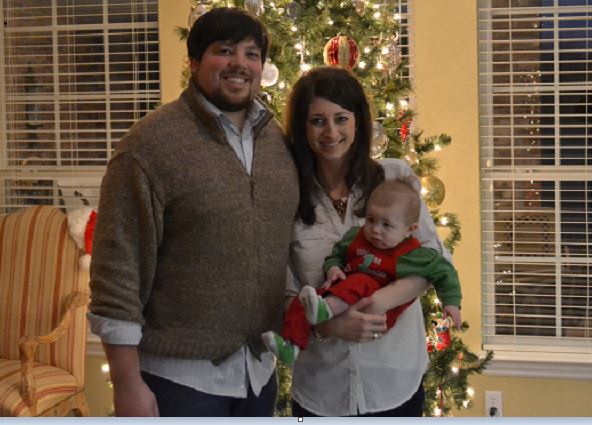 Name: Meredith Adams Pettigrew
Son's name and age: Harlan, 7 months on Jan. 19
Where are you from and how long have you lived in NWA? I was born in Charleston, AR,  moved to Fayetteville when I was 7 and don't ever plan on leaving. We love NWA!
How did you meet your husband? We met on Leap Day 2008. My roommate at the time and her boyfriend, now husband, introduced us at a Boom Kinetic concert. Back then they were still known as Molten Lava.
Tell us about your work at Mitchell Communications Group? I do public relations work for some of the largest companies in the world including Walmart, Sam's Club, P&G, Kraft and Cracker Barrel to name a few. We assist them with media relations, strategic communications and event management. I also help manage our network of Project Employees who live all over the country.
What has been one of the most surprising things about new motherhood? There have been 2 for me: (1) How utterly and hopelessly clueless I am about this whole mom thing. I pride myself on being prepared and I read every book under the sun when I was pregnant but nothing really prepared me for actual motherhood. I am pretty much winging it all the time and I have learned to be ok with that. (2) How completely obsessed I am with Harlan. I am pretty sure I need him just as much as he needs me.
Do you have any fun hobbies? All through high school and college I scrapbooked but recently I have gotten into digital scrapbooking with photo books. Just as much fun and far less time consuming. I also love to be in the kitchen cooking or baking.
Where are your favorite spots in Northwest Arkansas? Any Razorback sporting event and the Farmington High School football field. My dad is a football coach (at Farmington) so I grew up as "the coach's daughter". To this day one of my favorite places to be is at a Friday night high school football game.
What's something your friends might not know about you? I watch EVERY pageant or reality show about pageants that comes on TV. I never did pageants but the whole process just fascinates me. It is truly a whole different world.
If you could vacation anywhere in the world this summer where would it be? Easy – Hawaii. I have made my husband promise he would take me there at least once. Any sunny beach is my happy place.
If you went back to college, what would you study? Education. Basically my entire family is in education as teachers, counselors and coaches. I was in a rebellious stage coming out of high school and refused to do what everybody else did. I think I would have loved teaching. Maybe one day.
What three things do you always have with you? My phone, a spare diaper bag full of the essentials and my hardcopy day planner- I am a pen and paper kind of girl and an electronic calendar just doesn't do it for me.
How do you relax at the end of the day? After Harlan is asleep I like to get a glass of wine, plop on the couch and watch our favorite DVR'd TV shows with my husband. I can't remember the last time we watched a show live.
One word to sum me up … organized