A big thanks to First National Bank of NWA for sponsoring one of our longest-running features on nwaMotherlode, 5 Minutes with a Mom. We love interviewing local moms and reading their answers. We're all more alike than we're different, especially when it comes to how much we love our kids.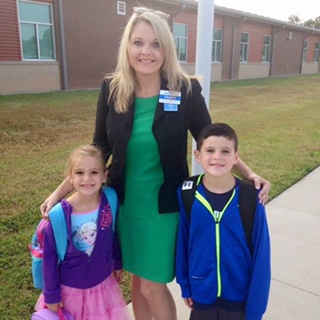 Meet our latest interviewee, Tracy:
Name: Tracy Triplett
Kids' names and ages: Raymond (10) and Rylee (7)
How long have you lived in NWA and what brought you here?
I've lived here since 2011 when I came back to work for Walmart after leaving the US Attorney's Office.
Tell us about your job:
Well, the most important job I have is as a mother. But when I'm not being a mother, I'm also an attorney (a former federal prosecutor) and a market manager for Walmart.
As a market manager, I have responsibility a market of 10 supercenter stores in Springfield, Missouri. I really wanted to get back into the stores but I didn't want to move my kids and I away from NWA.
Thankfully, I work for a company that values their people and understands the importance of family so they made it possible for me to do both.
What does a typical day in your hardworking single mom life look like?
I usually get up around 5:30am to get ready for my day. I wake my kids up around 6am to get them dressed and fed some breakfast. I get them on the school bus at around 6:35am and I get on the road to Springfield, which is just under two hours away.
My work day consists of visits to my stores. I'll generally tour one or two stores a day, walking with the managers and visiting with my associates. Lunch is usually a sandwich in between stores.
By around 4-4:30pm, I'm wrapping up in my stores and headed two hours home to see my kiddos, who ride the bus home to our babysitter. If it's not a sports or activity night, I'll go home, cook dinner and the kids and I will just spend time together. We love to watch movies, play board games and jump on the trampoline, when the weather allows. If we have activities, I'll usually walk in the door and load them up to rush to grab something "fast" to eat and head wherever we have to be.
The kids go to bed around 8:30pm and I'll lay with them until they fall asleep. We have some of our very best conversations in the bed! Then I'll usually clean up the kitchen, respond to some work emails, and indulge in some social media before getting in bed around 10pm to read for an hour or so before I fall asleep.
Tell us about your community involvement:
I've always been very involved in my community and in my children's schools. Prior to taking this new job, I served on the PTO and as a Homeroom Mom each year.
This year, I've had to be a little more selective about how I spend my time. I'm serving on the Walmart Foundation's State Giving Council for Arkansas, which has allowed me to play a part in deciding which worthwhile organizations receive millions of dollars of Walmart grants awarded in the state each year. I've been on the Leadership Council for Sheepdog Impact Assistance and I'm serving on the Board of Directors for the Single Parent Scholarship Fund of NWA and the Springfield Police Foundation, which is a nonprofit with a mission to support their police department.
I was honored to be selected for both NWA's and Arkansas' Business Insider 40 under 40 this year and I'm currently participating in Leadership Arkansas, which has been such an amazing experience.
What's playing on your iPod right now?
My iPod has very eclectic taste so you might find some Blake Shelton, U2, The Beatles, Bon Jovi, Twenty One Pilots or some 90's gansta rap playing at any given time, depending on my mood!
What's the best part of motherhood for you?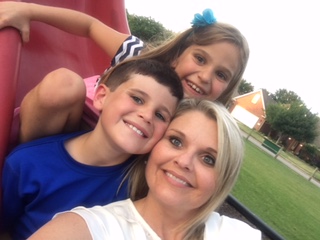 It's so awesome to watch my babies grow up and become little people. They make me so proud and make me want to be a better person every day. I love being able to help shape them and their priorities. When I see them worried about others, or wanting to help others in need, it makes my heart explode.
What has been the most surprising?
I knew parenting would be hard but I didn't know it would be this hard!
I feel like my heart is walking around outside my body, which can be pretty scary, and it's just exhausting at times. Sometimes I can't help but wonder whether I'm doing it right or just screwing them up!
What meal do you prepare over and over for your family?
My kids love my chicken and noodles with mashed potatoes and ask for it all the time!
Where does your family like to play in NWA?
We like to ride our bikes on the trails near Crystal Bridges, play at Horsebarn Park, and visit the Amazeum and HighRise.
If you and the kids could vacation anywhere in the world this summer where would it be?
We took our entire family to Atlantis Bahamas last year and it was the most amazing vacation ever. Having the grandparents, aunts, uncles and cousins along, made the trip so special! So if we could go anywhere this summer, we would take them all with us again, this time on a Disney Cruise. We'll have to save up for a few years for that one. 🙂
What's something you've always wanted to learn?
I've always wanted to learn Spanish. I took it in high school but didn't absorb much of it.
What three things do you always have with you?
My cell phone, my debit card and a tube of chapstick or lip gloss.
What's one of your favorite guilty pleasures? Raw cookie dough
One word to sum me up … Passionate
Click here to visit the First National Bank of NWA website or follow them here on Facebook. FNBNWA is a full-service bank and has multiple branches, including: