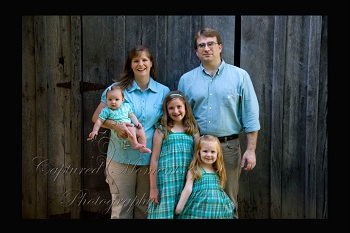 Name: Sandra Ware
Kids' names and ages: Emily, 8;  Nora, 3;  Rose, 8 months
How long have you lived in NWA? 5 years
What brought you to the area? My husband's job. He is a post doc in Physics at the University of Arkansas and the director of the GK-12 outreach program.
What's one movie you could watch over and over again? Sound of Music – just love that movie!!
What's playing on your iPod right now? iPod? Ha! :o) CD player in the car though has "Wee Sing" Sing Alongs in it right now. :o)
What are some favorite traditions you've started with your kids so far? This time of year has me thinking of all the holidays to come – they bring so many traditions to mind… for Halloween, pumpkin carving, making lollipop ghosts, trick or treating (I think they like answering the door at home as much as they like going door to door), for Thanksgiving, always a big cooking event and the kids help with every aspect of it – Thanksgiving usually means family in town too which is a special treat! For Christmas, lighting the Advent candle each week, decorating our Advent calendar (a family heirloom my mother made for me and my brothers as kids), making gingerbread houses, reading "The Night Before Christmas" on Christmas Eve… so many – day to day traditions though – meal time together is a must… a sit down meal to come together after the hecticness of the day, bedtime routines of stories read and prayers said.
What's been the most unexpected thing about motherhood so far? How hard it can be and how tired I can get especially with having a little one still – sleepless nights and busy days with the older two can get exhausting! But I also have been sweetly surprised with how much I have enjoyed every different stage in our girls' lives; having the girls spread out offers such different places in each of their lives – things they do, discussions they have, so fun!
Favorite place to play in NWA? The park in Tontitown – my girls love all the new and old equipment there – can't beat the shade in the summer time either!
What are some hobbies you enjoy (when you have time)? Playing games with the girls, playing outside – that way I can sneak in some good bird watching time too! Photography, scrapbooking, card making, genealogy, crocheting, cross stitching, sewing, baking.
What's something your friends might not know about you? I have lived in 7 states and that Morgan and I are high school sweethearts.
If you could vacation anywhere in the world this winter where would it be? Ireland
What's something you have always wanted to learn? I have always wanted to learn how to play the guitar. I always thought it would be so neat (as a teacher) to be able to pick up a guitar to play a song that the kids can sing along to.
What are three things you always have with you? My cell phone, my wallet and bags under my eyes (thank God for concealer) :o)
What would your ideal day look like? An ideal day is a day full of wonderful times together, giggles, laughter..and of course lots and lots of smiles!
One word to sum me up … Thankful
Photo Credit: Captured Moments By Jennifer