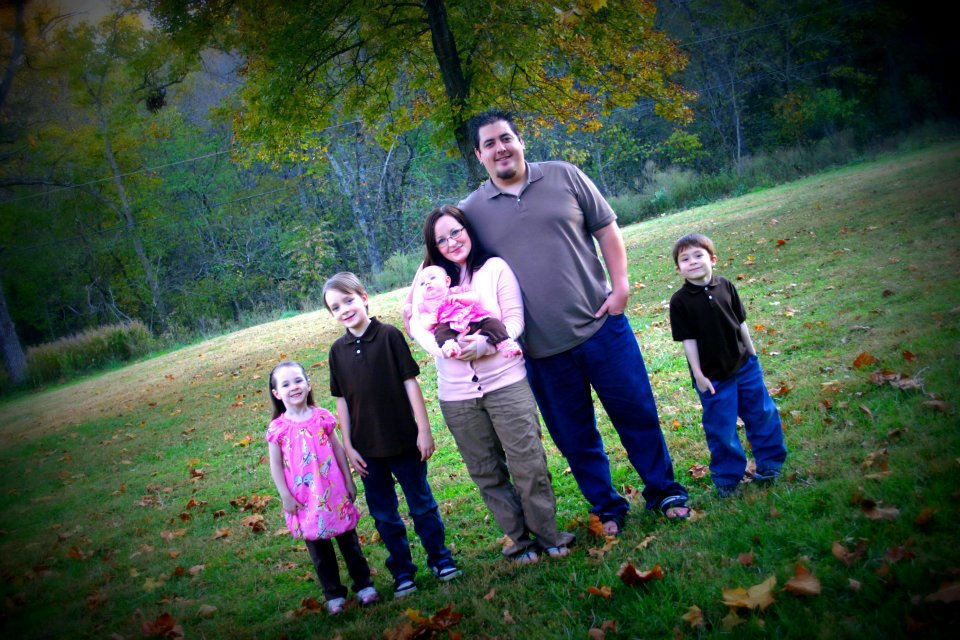 Name: Cassie Webster
Kids' names and ages:  Izayah 10, Skyler 8, Alexi 6, and Kaydee will be 2 in July.
Where are you from and how long have you lived in NWA?  I grew up in Fort Smith, but moved to Rogers after re-connecting with my now husband in 2009. It is a glorious place to live. I love it here!
What's one movie you could watch over and over again? Moulin Rouge. I absolutely adore musicals.
Tell us a little about your big family: My family consists of my husband Michael, me, 2 boys, 2 girls, 1 boy cat, and 1 girl cat. We joke about having a balanced household. My husband works for Glad, which allows me to stay at home and care for our 4 children. I have 3 in elementary school and one at home, so I'm constantly busy.
What's your work background? I have worked as an Assistant Director in child care facilities in the past. I was head teacher for the toddler class and the baby class before that. I loved what I did for many years, but once my husband said I could quit, I jumped at the chance to be a stay at home mommy to my babies.
Tell us about some traditions you've started with your kids: I love to take the kids to the farmer's market. We talk about all kinds of subjects as we walk around. The kids each get to choose a fruit and/or a vegetable. I encourage trying new foods, due to the fact that I have picky eaters. I love seeing them get excited about healthy food and carry their produce proudly home.
Where does your family love to play in NWA? Horsebarn/Metro park is our favorite park, picnic and play at Bentonville Splash Pad,  and  Fast Lane Entertainment . We love to have fun but keep costs down.
Do you have any special hobbies? Singing at all times, playing Dance Central with my kids, Girl's Night Out or In with my girlfriends, and family movie nights. Note from the mamas: See a pic of Cassie and her friends (below) just before they attended a HUGE GNO recently, the NWA Mom Prom! Cassie is second from the left — and BLONDE now 🙂
What's something your friends might not know about you? It may appear that I'm very outgoing and social, but really I'm feeling very self-conscious and awkward. So, I tend to ramble on to seem "normal".
If you could vacation anywhere in the world this summer where would it be?  I am dying to go to an island where the ocean is a crystal turquoise, you can sip on fruity drinks all day long, go swimming, and just be completely lazy while enjoying a luscious view of your surroundings.
Who would you want to play you in a movie about your life? Emma Stone. We both have that awkward humor thing going on, as well as, the pale skin.
What's something you have always wanted to learn? Multiple languages. I adore accents and languages, but I have no memory to retain what I learn. (haha!)
What are three things you always have with you?  Carmex, baby wipes, and my cell phone (for the photo ops always present when you have children.)
How do you wind down at the end of the day? I grab a snack, a glass of Stella Rosa wine, and watch some of my favorite shows.
One word to sum me up … Blessed