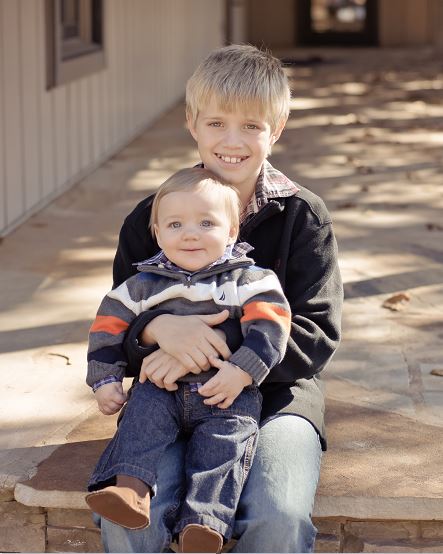 Name: Sarah Jewell
Son's name and age? Luke is 11 and Jackson is 16 months
How long have you lived in NWA and what brought you here? I was born in Springdale in 1980, but was raised in Farmington. My dad grew up in Fayetteville, and met my mother, who is from Southwest Missouri, while she was attending the U of A.
How did you meet your husband? We formally met while working part-time at Lindsey and Associates in Fayetteville. I was told I would be working with another U of A student closely, and that working relationship turned into a personal relationship months later!
When we were introduced, he was standing on a ladder fixing a light bulb in the break room at Lindsey & Associates. I immediately remembered him from Finite Math a semester before as the guy who always sat behind me helping other students in the class with their homework. As he was greeting me from the ladder, I had an immediate feeling that this guy was special, but I had no clue how special he would become to me!
Tell us about your work: I am the Library Media Specialist at Holt Middle School in the Fayetteville Public School District. This will be my 3rd year at HMS, but my 10th year in education. I have a job that allows me to work with both students and teachers. Since I am a teacher-librarian, I collaborate with teachers to teach information literacy lessons, but also advise students on a variety of books to read. I also work hard to promote literacy and encourage students to read every chance I get!
What are some of your favorite places to hang out with your family in NWA? Since we have 2 active boys, our hang out spots are mostly outdoors! We are really enjoying the new Rogers Aquatic Park this summer! We purchased discount punch cards and we go at least once a week. My 11 year old, Luke will spend hours on the rides and Jackson, my 16 month old is happy with the huge splash pad, toddler pool area, and likes the lazy river (thank goodness)!
We also enjoy the all the Razorback sporting events, especially tailgating during football and Hog Baseball. We also love the NWA Naturals since it provides a great family friendly atmosphere and everyone always has a great time! The Tontitown city park is a great place to go on the not so humid days. It is always very clean, and they have added some new play areas that both boys enjoy. We also go out on Beaver Lake on our pontoon during the summer. Horseshoe Bend has a great camping and public swimming area. We pack up with drinks and snacks, and make a day out of it!
What do you enjoy doing when you have a little extra time? If I happen to come across 2-3 hours of "me" time, you can bet I will be getting a pedicure, especially in the spring and summer! I also would make a quick trip to the Fayetteville Public Library and just browse! It's such a wonderful place to go.. Not only because it's beautiful and has a coffee shop, but also because they have the friendliest staff, waiting to help you! I would also take the opportunity to go to a few fun boutiques around NWA… Whimsy Whoo in Springdale or Something Urban or Riffraff in Fayetteville! There would also be a Sonic stop in there somewhere… My guilty pleasure is a Vanilla Diet Coke.
What's playing on your iPod right now? I like all kinds of music, but listen to country music the most. I usually listen to Pandora, and a few of my favorite stations are Jason Aldean radio, Carrie Underwood radio, Bruno Mars radio, and Justin Timberlake radio. I also listen to gospel radio as well, especially the old-school hymns that I grew up singing in church.
What's been the most unexpected thing about motherhood for you? One aspect of motherhood, or just parenting in general that I didn't expect is how hard it is to find a balance between motherhood and me! Yes, I am a mother, but when it is all said and done, it will not 100% define me as a human being. Knowing and perusing my personal interests and aspirations (not to mention social time with friends) is hard since we have an older child with lots of after school commitments, and a toddler who needs his mommy a lot! This is something with which I will struggle, but hopefully get better at as the years go by.
What's something your friends might not know about you? I hate jeans! I think they look great, but can't stand to wear them.
If you could vacation anywhere in the world this summer where would it be? It would for sure have to be a tropical paradise! I'd rather have outdoor adventures than go sight seeing in countries such as Italy or France! Somewhere like Bonaire or the U.S. Virgin Islands would be wonderful!
What's something you have always wanted to learn? I have always wanted to learn sign language. To be able to communicate purely by hand movements and body language is fascinating to me!
What are three things you always have with you?
1. Cell Phone
2. Wallet
3. Bottle water
What would your ideal day look like? First off, my ideal day would definitely be a summer day with my family! We would wake up and go to the Fayetteville Farmers Market, and have brunch at Briar Rose Bakery in Farmington (love their Egg Salad Sandwiches). In the afternoon after nap time, it would be fun to go to the Gentry Safari, and of course get some Shave the Planet afterwards! That evening, we would get a much needed babysitter and Brian and I would get some adult time! After a nice dinner, we would see a show at the Walton Arts Center on Dickson St., and then afterwards meet friends out for drinks! For it to be "ideal", I'd need to be in bed by midnight since Jackson is up at 6:30 am every morning!
One word to sum me up … Loyal. I had to ask the one person who knows me the best…. My wonderful mother, who happens to be very loyal herself.
*Photo Credit: Three Bees Photography