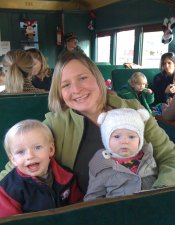 Name: Ambre Brewster
Child(ren)'s names and ages:  Kurtis "Owen"- 2.5 years and Addyson- 8 months
Where are you originally from? Born in Mississauga Ontario but grew up in Joplin, MO
Do you have any New Year's Resolutions? I want to try to not eat out as much! I also want to try to go to a cash system instead of a "use your credit card and pay it off every month" system.
What does your favorite outfit say about you? I'm a tired mom of two!!!  It is my comfy, fleece pants with a matching vest (that is used to cover up the most recent stain either my son, daughter, or myself has gotten on my shirt).
What is one of the funniest things that's happened to you as a mom? We took Owen, who was bald with very fair skin, to Singapore and we went to the zoo. While we were there we were followed by a group of tourists. We couldn't figure out why they were following us until one of them got the courage to ask us if they could take a picture with our baby! It was amazing to us how many people wanted their picture with him! We laugh that he was more photographed than the animals there!
One of the worst? When Owen was a couple of months old he was bit on the head by an older kid.  This was his first injury of any kind. I think I cried more than he did!
What are your favorite hobbies? Does watching Reality TV count as a hobby???? If so, count me in!!! I also like to blog, cheer for the Razorbacks, and travel! (Check out Ambre's blog here: )
Something you're really looking forward to: As cheesy as it sounds, I look forward to each new day with my kids!!  What funny thing is Owen going to say or what new "trick" is Addyson going to learn?  We will be traveling with my husband to Baharain in Febuary. Should be an interesting trip with the kids! I'm looking forward to visiting a Middle Eastern country but am not looking forward to the 17 hours of flying with 2 very active kids!
Tell us about a day in the life of Ambre: 60% of the year, I am a single mom to 2 kids and 2 dogs.  This means waking up early (6 a.m. unless I'm lucky enough to sleep until 7:15). Twice a week Owen goes to Mt. Comfort Church of Christ's Sonshine School from 9-1. These days I get to bond with Addyson and get errands done. I really try to avoid going to the store with both kids by myself if I can! After naps, we all play in the den. We love to dance as a family! We turn on the music as loud as we can and dance in a circle (sometimes we'll grab an instrument or two). Then it is dinner and bed by 7:30 for the kids and usually I'm not far behind (unless I have Survivor or Amazing Race waiting for me on the DVR!!!)!!!
When my husband is home life is very different!! He gets up with the kids so I can stay in bed! Even if I can't go back to sleep, I enjoy just laying in bed and watching the Today Show!
We keep pretty busy with activities through the MOMS Club of Fayetteville where I'm the Vice President!  Life in the Brewster home is busy and crazy but a lot of fun!!!
My favorite moments are: When my son comes up and gives me a BIG squeeze or my daughter leans in and gives me a big slobbery kiss! I love to sit on the couch snuggled up to my husband and watch the kids play. When I was pregnant with Addyson I was so afraid of how it was going to affect Owen and watching them play I love to see how all of my worries were for nothing! He loves to make her laugh and she loves to laugh at him! We are so blessed!
How do you like to unwind? With a beverage of choice in front of one of my favorite shows!
What's your favorite place in NWA to hang out with the kids? Chick-fil-a is a favorite place for us!  They are so kid friendly, it is good food, and the kids can play while the adults talk! Also, any Razorback event is a lot of fun with the kids!
Favorite NWA date night activity? We like to go to JJ's and listen to the music and play touchscreen!
Best advice you received as a mom? To enjoy each phase and never wish away the stage your child is in (It is great she is sitting, but I can't wait until she is crawling. It is great she is crawling, but I can't wait until she is walking). This has really helped me enjoy each stage for exactly what it is!
Something that has surprised you about motherhood? I didn't know being the mom of 2 was going to be twice as much work! In order to convince my husband that we were ready for another baby, I told him, "I'm already making lunch what for one, it won't be that big of a deal to make it for two". Well I didn't think about bathing 2, or putting 2 to bed at the same time, or dressing 2 versus 1!  I wouldn't trade it for anything I just hope my family and friends understand when I forget their birthday or show up 15 minutes late to something! : )
One word to sum me up …  busy