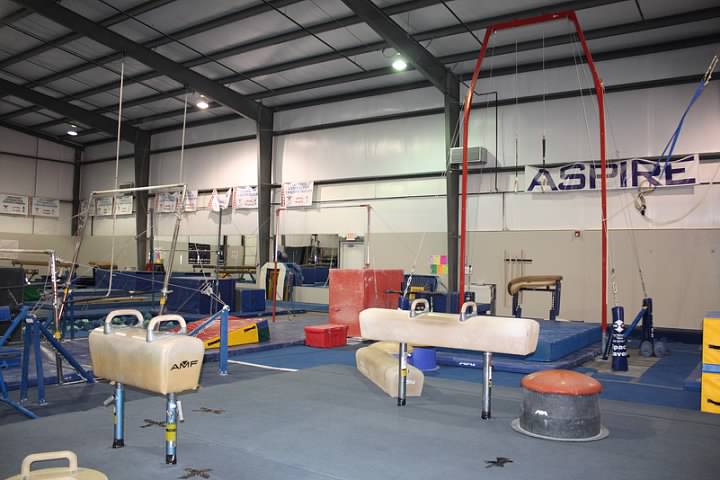 My 5-year-old daughter Kate practically cartwheeled out of the womb. The kid has not stopped moving since before birth. So I knew early on that I'd need to find an outlet for all that extra energy. When she took her first gymnastics lesson, she was in love.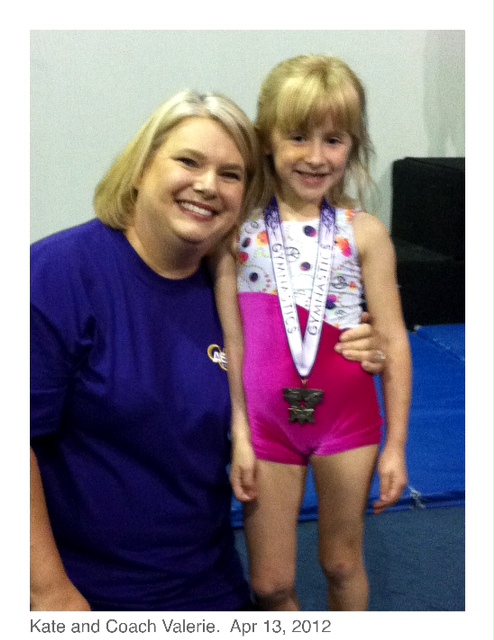 For the past year, she has been taking lessons at Aspire Gymnastics Academy in Bentonville. (That's Kate on the right with her awesome coach, Valerie, who she adores.) Aspire was recently voted "Best Gymnastics Lessons" in Benton County by moms voting in the 2012 Mom's Choice Business Awards.
I wasn't surprised to see Academy win this category because the facility and the coaches are top notch. I've been amazed at how quickly they teach students new skills. Below is an interview we did with the owners of Aspire, Steve and Karen Cherry.
When and how did Aspire gym get its start?
In 2004, a couple of moms decided the Bentonville area needed a quality, family-friendly place to take gymnastics. When enthusiastic moms get together, big things can happen. I started working at Aspire in 2005 as the director of the Tot program and later the Recreational Gymnastics program. I saw what a great place this was. When I had the opportunity to buy the gym from the previous owners in May 2010, we did it and re-named it Aspire Gymnastics Academy. I love this place, and I want to continue to offer the best experience to kids in Northwest Arkansas.
How many students do you teach each week?
We now average 900 students each week!
At what age can kids begin to learn gymnastics?
Our WeeTots program starts at 21 months of age.
What is the average class size?
For preschool and 5-year-old classes, we limit the class size to six students. For kids ages 6 and up, class sizes are limited to eight students each.
What different types of gymnastics classes/programs do you offer?
We offer preschool, recreational, competitive (both boys' and girls' teams), urban gymnastics and tumbling. (Click here to see a video that shows you what urban gymnastics looks like. Active boys, in particular, love this sport.)
How did your competitive team do in its most recent season?
We are so proud of these young athletes. The girls in our Level 7 team ranked 1st in the state of Arkansas. The Level 5 girls' team also won 1st place statewide for their age group. And our Level 6 girls' team ranked third in the state.
How do you ensure that students learn new skills safely?
We follow all USA Gymnastics (USAG) guidelines and our coaches stay certified with USAG by attending learning seminars and conventions with the most up-to-date safety guidelines for teaching gymnastics.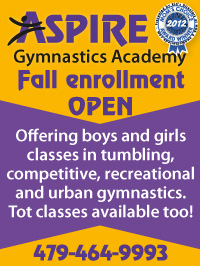 Other than physical fitness, what benefits does gymnastics offer for kids?
This sport teaches discipline, body awareness and listening skills, and it builds self-confidence as well.
What is it like to be a part of so many childhoods? What's your favorite thing about your job?
It is so rewarding to know that you're playing a role in a child's physical and emotional growth and maturity. My favorite part of this job is watching a child learn a new skill because I get to see the big smile that spreads across their face. There's nothing like it!
For more information about Aspire, click HERE to visit their website or call them at 479-464-9993.