By Sarah Martin Hood
Does he need another tie? A paper weight? Maybe some socks? No worries. I'm here to save you from another year of scrambling around for Father's Day gift ideas.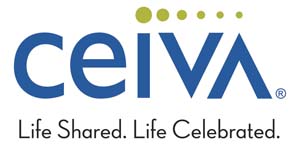 Ceiva Digital Photo Frames are a dream come true. You've probably seen digital photo frames – they're sold almost anywhere you can buy a camera. And they are REALLY cool. They're the perfect way to enjoy multiple photos without having a hundred frames everywhere, and they are easily updated with new photos whenever you like. Well – Ceiva takes the Digital Picture Frame concept to the next level.
Ceiva offers products that allow you to email your pictures to the picture frame. You don't have to connect it to your computer for new photos all the time. (Or worse, you don't have to watch the same 20 pictures rotate again and again for the next 5 years because you can't quite remember how to upload new ones…)
Wait! It's not scary! Or complicated! Stay with me!
This past Christmas we gave one to my mother-in-law as a gift and it could not have been more perfect. At first, she was intimidated by a new gadget on her kitchen counter, but once I assured her that all she needed to do was plug it in – she was sold!
Your Ceiva frame connects through EITHER a phone line or the internet, but it connects through a toll free number so no crazy phone charges.
Once your frame account is set up, you can allow an unlimited number of people to send photos to the frame – all additional people are FREE. (I smell a group gift!)
You can send photos to the frame via email, your iPhone, or straight from Facebook!
Ceiva's website is E-A-S-Y! It allows you to upload photos, crop them, add captions or borders, and send them on to the frame!
The selection of frames from Ceiva is getting better all the time — they now offer different sizes and finishes, as well as different skins and mattes for a fun look!
It is an absolute perfect way to supply Dad with a fresh crop of candid photos of the kiddos to display at the office, all year long. Or a great way to keep Grandma and Grandpa updated from 3 states over. The owner of the frame only needs to know how to plug it in! The rest is as easy as updating your Facebook status! Happy Father's Day!
*Note: Sarah has not been compensated in any way for her opinion and review of Ceiva. She's just a fan! Sarah would love to hear from you with questions or feedback regarding gadgets, technology, or blogging. You can also stop by Sarah's personal blog, Musings of Mother Hood to say hello. To read previous installments of Techno Mama, click here!