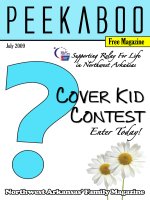 Hey, mamas, listen up because you only have a few days left to enter this contest! We'd love to see some of our readers' kids in an upcoming issue of Peekaboo Magazine.
The American Cancer Society is organizing a Relay For Life fundraiser showcasing local kids. They did this last year and it helped raise some very needed funds. It's a child's photo contest and the winning contestant will be featured on the August cover of Peekaboo. The contest is open to children ages 12 and under living in Northwest Arkansas. Entries will be accepted through Thursday, May 6. Entry forms can be found at http://main.acsevents.org/arcoverkid or at www.peekaboonwa.com. There is a $10 entry fee per child.
Friends, family and community members are encouraged to "vote" for their favorite photos online starting on May 10 and ending on June 10. Each dollar donation logged on the site for the voter's favorite photograph will be counted as 1 vote. All donations will benefit the Relay For Life of the entrant's choice. The nine photos with the highest number of "votes" after the winner will also be featured inside the publication, and the top vote recipient will receive the cover shot.
Relay For Life is an overnight fund-raising event filled with activities, food and community spirit. 
"Every penny, dime and dollar raised at Relay For Life offers hope to everyone who has been or will be touched by this disease, and brings us one step closer to a cancer-free tomorrow," said Lindsey Bowers, development representative for the American Cancer Society.
For more information on the contest, call the American Cancer Society office at 479-750-2493.
The American Cancer Society is the nationwide, community-based, voluntary health organization dedicated to eliminating cancer as a major health problem by preventing cancer, saving lives and diminishing suffering from cancer, through research, education, advocacy and service.