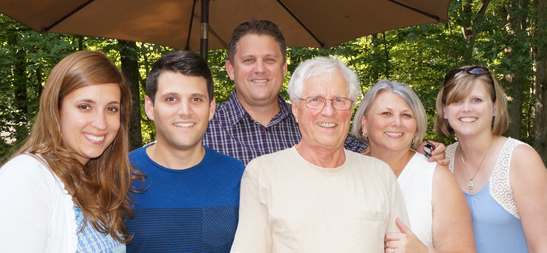 Name: Laura Grutz
Children's names and ages: Son, Seth Grutz, Age 26, married to Lindsay; Daughter, Sidney Grutz, Age 24
What's one movie you could watch over and over? We love movies, so there are many. However, probably Sleepless in Seattle, Princess Bride, or My Big Fat Greek Wedding are some that never get old.
Tell us about some traditions you've continued with your kids, even though they're out of the "nest": One is a silly tradition. When I was growing up, my mother would say, "Eeee, Bob!" to my dad anytime he was driving and she didn't like what he did (like drive too close to someone or stopping quickly). So we started saying it, too, and still do. I also still do Christmas stockings for my kids each year that includes fingernail clippers and Chapstick.
Also, I'm not sure if this a tradition, but a family quirk—we use a LOT of movie quotes in our communication with one another.
Where does your family love to play in NWA? That's one of the things that struck us when we moved to NWA in 2001—there were so many recreational choices! We love everything from Crystal Bridges, to the trail system, to hiking Lost Valley, to playing Bocce ball in Tontitown.
What's something your friends might not know about you? I have a real thing for muscle cars.
If you could vacation anywhere in the world this winter, where would it be? Somewhere tropical, I love the beach. Or maybe Italy.
What's something you have always wanted to learn? I have always wanted to learn more about brain development and the way the brain works. In my work, we are learning more and more about how trauma affects the brain. The brain is a fascinating organ.
Which three things do you always have with you? My phone (unfortunately), lip balm, and reading glasses.
Tell us about your work training foster/adoptive parents: I worked for child welfare for about two and half years before beginning to train foster parents for an agency that contracts with the Division of Children and Family Services. I have been training foster and adoptive parents and completing home studies for 12 years. At this time, the process consists of 27 hours of training plus the home study.
How can people find out more about how to be foster parents? People can visit the website:  http://www.fosterarkansas.org/ or call 479-442-4029 in our area for more info. We need more foster parents…and adoptive parents!
How do you wind down at the end of the day? A glass of iced tea or cup of hot tea (depending on the season) and a hot shower.
One word to sum me up … Dependable.