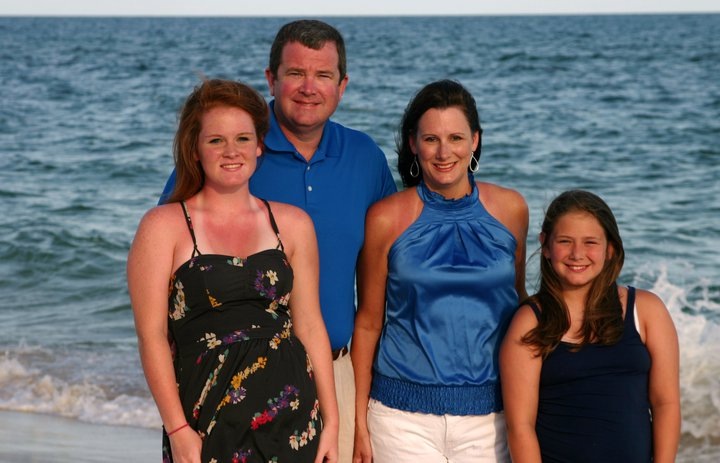 Name: Lisa Sullivan
Kids' names and ages: Hayley, 16 and Caitlin, 12
How's your family enjoying NWA so far? We LOVE it here!  Moving here was the best decision we ever made!
What are some of your favorite spots already? Actually, my neighborhood.
We moved here from a very rural area and we're not used to having neighbors.  And we have the best!
What's one movie you could watch over and over again? Any Christmas movie!  In fact, our family traditionally watches "A Christmas Story" marathon every year.  And it's not Christmas until we've seen National Lampoon's "Christmas Vacation".
What's playing on your iPod right now? A little bit of everything–from Toby Keith to LMFAO.
What are some of your favorite traditions with your girls? Have you added any new ones now that they're in the teen/tween years?  Most of our traditions involve the holidays.  We always go see a movie with my mom and dad on Thanksgiving Day and Christmas Day. The girls also get a Christmas ornament in their stockings that has something to do with some milestone reached that year or event that happened.They'll take these with them when they have a tree of their own someday!  And I always get an ornament from wherever we've gone on vacation that year.
Do you have any fun summer plans?  We are planning the Ultimate Road Trip 2012 to Colorado at the end of June.  Follow me on Instagram (lisa3400) or twitter (lisa1219) to see all the ridiculously goofy things we do!
What are your favorite hobbies? I love to read–especially political espionage thrillers.  I also read a lot of non-fiction political stuff.  And I love to blog about… you guessed it–politics and culture.
What's something your friends might not know about you? I'm fascinated by genealogy and family history.  I developed an interest after my Dad died about 15 years ago and I felt like I needed to know more about his family and where he came from.
What title would you choose today for your autobiography? I'm not good at naming things–see: every single blog post I write.
If you could live anywhere in the world where would it be? On my very own tropical island!
What's something you have always wanted to learn? To speak Hebrew
What are three things you always have with you? Lip balm, Listerine strips and my iPhone.
What would your ideal day look like? I would sleep in and then drink coffee on my deck on the beach (see my very own private tropical island above) with my dog and read all day.
One word to sum me up … My family would probably say "bossy" but let's go with "opinionated".