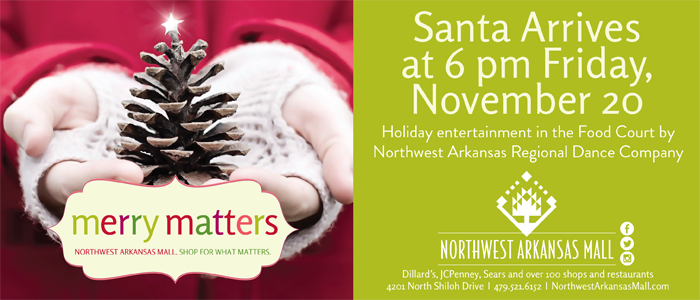 Jolly Old St. Nick will soon be seen all over town!
He arrives at the Northwest Arkansas Mall at 6 tonight!
In celebration of Santa's arrival, everyone is invited to attend a free performance by the Northwest Arkansas Dance Company at 6 p.m. in the Food Court.
After the performance, there will be a special reading of The Night Before Christmas by our celebrity guest reader, Jim Bodine, from Magic 107.9 radio. Afterwards, Santa will arrive at the Food Court and parade with children down to his holiday home at Center Court.
Photos with Santa will start immediately after the celebration of his arrival. Every child who visits Santa during the holiday season will get a special gift from Santa. In addition, the first 50 customers who purchase a photo package will receive a free gift (while supplies last). You know what else is cool about this Santa? He's an interpreter for hearing impaired people, so he can communicate with hearing impaired children and parents.
Visits and photos with Santa will continue through Christmas Eve at Northwest Arkansas Mall. Santa's regular hours are listed below:
*Regular Santa Hours from Nov. 21 – Dec. 23
Monday – Saturday, 11 a.m. – 8 p.m. (Break from 3 – 4 p.m.)
Sunday, Noon – 6 p.m. (Break from 3 – 3:30 p.m.)
Christmas Eve hours are 11a.m. to 6p.m.
On December 7th and 14th you can bring your pets to Center Court to purchase photos with Santa from 6-8 p.m.
On December 12th, your kids can have breakfast with Santa from 8-10 a.m. at Mariachi's Cantina at the NWA Mall. Tickets are $5 and kids 2 and under are free. Every child will receive a special gift. You can buy tickets at the Boys & Girls Club of Fayetteville or go online here: www.fayettevillekids.org.
Here are some other spots around NWA where you'll also spy Santa this season:
Light of the Ozarks on the Fayetteville Square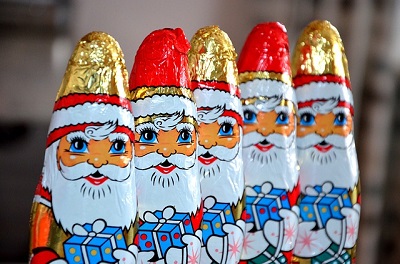 The Fayetteville Square will light up tonight (Nov. 20) starting at 6 p.m. with the Lighting Night parade. Festive floats, Razorback mascots, and even Santa will be there to join in the fun.
The lights illuminate the square each evening fom 5 p.m. to 1 a.m. Nightly carriages and pony rides, fresh hot chocolate and festive holiday music are awesome, but . The romantic and breathtaking display of a half-million twinkling lights is cherished by the locals and visitors alike that stroll or drive through the Lights of the Ozarks each year.
You can also visit Santa on the Square. Santa is free to see (tickets are $2 to visit his reindeer) but there is a $5 fee for photos with Santa. Santa and his reindeer are out on the Square every evening until December 23rd from 6 to 9 p.m., weather permitting.
Lighting of the Bentonville Square
On Nov. 21, the Bentonville square will light up! Look for the First National Bank of NWA booth to get free photos with Santa from 4-6 p.m.!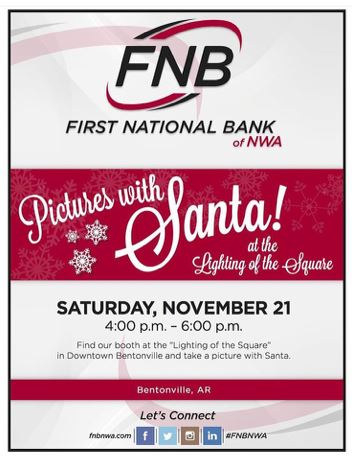 Cabela's
On Dec. 5-6, from 10 a.m. to 2 p.m., kids can visit Santa in the Octagon at Cabela's and get a free picture and Cabela's keepsake frame with Santa Claus. (Or you can take one with your camera). Cabela's says: Due to the popularity of this event, photo printing wait time may vary, so please make sure to bring your patience!
The Jones Center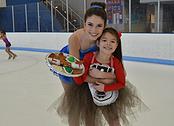 On December 12th, at 1 p.m. and 5 p.m., the Ozark Figure Skating Club will present "It's a Classic Christmas" at The Jones Center for Families in Springdale.
Tickets are $8 for adults and $5 for children 11 and under. This will be a fantastic family event showcasing the finest figure skaters in Northwest Arkansas. After the show, ticket holders are invited to skate with the cast and Santa. Concessions will be available. Visit www.ozarkfsc.org for more information.
Pinnacle Hills Promenade Mall
Santa will be at Pinnacle Promenade in Rogers through Dec. 24 in the Food Pavilion.
The Walmart Museum
Santa Claus will be at the Walmart Museum (just off the Bentonville Square) and ready for pictures with you, your family, and friends. It's free.
Here are the dates & times he'll be at the museum:

Friday, December 4th from 5pm to 8pm
Saturday, December 19th, from 9am to 2pm
Wednesday, December 23rd, from 5pm to 8pm
NWA Circle of Friends, Santa's North Pole Party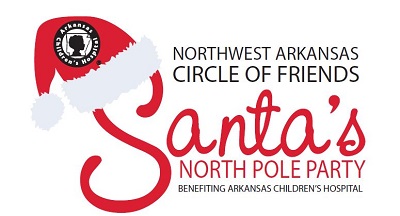 This party benefits Arkansas Children's Hospital and sounds like a blast. On Dec. 5, from 5-7 p.m., kids 2 and up are invited to St. Thomas Episcopal Church on 48th St. in Springdale to enjoy games, photos with Santa, stories and crafts.
Tickets are $10 for kids (adults don't pay). They will also be collecting new, unwrapped gifts for Arkansas Children's Hospital kids.
Petco
On Saturday, Dec. 5 and 12th from 1-4 p.m., your pet (and kids) can pose with Santa at Petco locations in Fayetteville and Rogers. For $9.95 you'll receive a photo and keepsake frame and all proceeds  help homeless animals. We'll bark — and meow — to that!
Farmland Adventures

Santa will stop by multiple times at Farmland Adventures in Springdale when they start selling Christmas trees and hosting fun winter adventures, which is new this year!
There will also be a shepherd and sheep for families to take pictures with at various times.
Click here to read a story about Farmland Adventures' new winter hours, family activities (including a community campfire to enjoy!) and pre-cut Christmas trees.