31 Therefore, whether you eat or drink,
     or whatever you do,
     do all to the glory of God.    1 Corinthians 10:31 (NKJV)
By Bro. John L. Cash
When Susan and I are traveling, we often stop to eat at Waffle House. Such was the case last week, when lunchtime arrived as we were on our way to Arkansas. My wife and I are the type of folks who can eat breakfast for any meal of the day. Plus, whenever you eat at Waffle House, you always get your money's worth and never leave the table hungry.
Whenever I'm there I always order my eggs "over…medium." That means that the egg should be flipped "over" and the yolk should be "medium"— that is, piping hot and cooked all the way through, but still runny. I've never mastered the "over…medium" egg, although I've spent my life trying. No matter how hard I try, I always wind up breaking the yolk and cooking the whites too hard. Then I just stir everything up together and tell myself I really wanted scrambled eggs anyway. But, truth being told, the "over…medium" egg is one of the most glorious things on this planet.
Well, after we placed our orders, I glanced toward the grill and began to watch the young man preparing our food. He was poetry in motion. With a deft toss of the wrist, he flipped my two eggs in the tiny sauté pan, leaving the whites perfectly smooth and white and yolks whole and intact.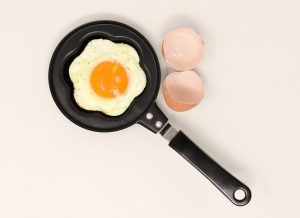 Even from a distance I could tell my eggs were perfectly prepared. It was amazing. I told Susan, "This man knows what he's doing."
As Susan and I took our first bites, we instantly knew we were eating the finest meal we'd ever eaten at a Waffle House. It might seem incredible that there could be so much deliciousness in a meal at a truck stop, but trust me, every bite of food was amazing.
Now, as my long-time readers can imagine, I'm the kind of person who will chat with people I just met at a restaurant. But Susan doesn't usually do that. In fact, she sometimes begs not to converse with random people I meet each day. It shocked me when she called our cook over to our table. "Sir," she said. "This is the most delicious food I've ever eaten. I just wanted to compliment you on your fine work."
His reply was interesting. "Ma'am, I've just graduated from culinary school in Dallas. I'm a chef. I cook at another restaurant at night. I'm just getting started in my career. Thanks for your kind words. God bless you."
Isn't this the fulfillment of today's Scripture verse (at the top). If we do our best and add the love of Christ to everything we do, even the "everyday" things can become wonderfully sacred. So let's begin to do this today. I bet this week will be exceptionally "egg-stordinary."
Dr. John L. Cash is the "Country Preacher Dad." He was raised in Stuttgart, Arkansas, and has spent the last 34 years being a country preacher in the piney woods five miles south of the little town of Hickory, Mississippi. He's a retired Mississippi public schoolteacher with grown sons, and is now a stay-at-home-grandpa.  He and his lovely wife, Susan, live in a brick house in town (where the preacher has a lot of stories to tell you about his 40th class reunion.)  You can send him a note at brotherjohn@ilovechurchcamp.com.