26 The last enemy that will be destroyed is death.  1 Corinthians 15:26 (NKJV)
By Bro. John L. Cash, "Country Preacher Dad"
Susan and I are pretty good at keeping up with the news and are usually aware of most of the headlines. But, at the beginning of this year, something slipped by us. Somehow, we missed getting the news that John Dye had passed away on January 10, 2011. He was the actor who is best known for playing the angel of death on the CBS program "Touched by an Angel." He died of heart failure and was only 47-years-old. Susan and I were saddened to learn about his passing.
There was always a lot of controversy about "Touched by Angel." Atheistic groups complained that it was promoting a belief in religion and God. Fundamentalist Christian groups blasted the show for teaching a salvation based on doing enough good works to earn salvation. Folks with sophisticated tastes said it was too sentimental and sappy. But I liked the program. I think American culture might be in better shape if we had more shows like it.
I guess the actors on the show influenced me a little more than I'd like to admit. One time I commented to Susan that I was shocked to read a tabloid report that Roma Downey was having trouble in her marriage. Susan smiled at me and answered very sweetly, "Well, John, you know she is an actress playing a part. She has all the problems that regular people have. She's not really an angel."
It sounds silly now, but I guess I'd forgotten that. In my book, the actors and actresses were very convincing in the roles they played.  That's why their stories of virtue and goodness touched people's lives.
After reading the news report about John Dye's passing, I had a conversation with a friend of mine about "Touched by an Angel." I asked her: "Did you hear that the angel of death has passed away?" I was shocked by the way the words came out of my mouth. What a strange way to phrase the idea! Fortunately, my friend understood my meaning instantly.
But, the more I thought about my words, the more I realized that a time is coming when we all will be able to truthfully say to one another, "Did you hear that the angel of death has passed away?" Revelation 20:14 tells us Death and Hades (the place of the dead) will be destroyed in the lake of fire. Today's Scripture lesson (at the top) teaches us that Death is the last enemy that will be defeated by Christ.  So, as you begin to live this new week, rejoice in that fact — and live for Jesus as you look forward to the promise of God:
"And God will wipe away every tear from their eyes; there shall be no more death, nor sorrow, nor crying. There shall be no more pain, for the former things have passed away."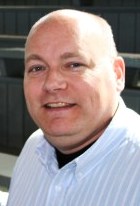 Revelation 21:4 (NKJV)
Dr. John L. Cash is the "Country Preacher Dad." He was raised in Stuttgart, Arkansas, and has spent the last 26 years being a country preacher in the piney woods five miles south of the little town of Hickory, Mississippi. (On week days he works at a public school.) He and his lovely wife, Susan, and his sons, Spencer (age 20) and Seth (age 17) live in the parsonage next door to the Antioch Christian Church (in the beautiful state of Mississippi, the state where John Dye was born and is buried.) He would love to hear from you in an email sent to jcash@scott.k12.ms.us.