12 Now we have received, not the spirit of the world, but the Spirit who is from God, that we might know the things that have been freely given to us by God. 1 Corinthians 2:12 (NKJV)
By Bro. John L. Cash
When we bought our house in town, it came with a free cat. Before we even finished unpacking boxes, Susan and I started feeding the skinny kitty that greeted us each morning at the patio door.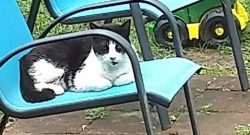 Some weeks later, I was talking to my next-door-neighbor, Richard Smith. I was admiring his pair of gorgeous, pedigreed dogs. He told me he used to have a cat. But as soon as he got the two dogs, his cat ran away. He said sometimes he spotted his cat, who had gotten very skinny. Then he stopped seeing him altogether. He said he guessed the cat had died, and it made him sad because he'd had him about a dozen years.
I gave Richard the good news that his cat had not died and is no longer thin. I told him his cat had not run away. He'd just moved to my house and was taking his meals with great regularity. In fact, I very often began my day by announcing, "Susan, 'Fat Tommy Smith' is here for breakfast."
Last week I witnessed something wonderful. I was reading a good book as I sat in my easy chair next to the window that looks out on the patio. Every 15 minutes, a Blue jay flew down and ate
3 pellets of dry food out of the cat's dish. Then he would fly back to his nest. It was a pleasing process to watch. The beautiful bird was as regular as clockwork as he retrieved a snack 4 times every hour.
Now here's the interesting thing: Every time the bird swooped by, Tommy Smith (the cat) was watching from his lawn chair. It didn't seem to upset him at all. He made no effort to stop the bird from eating his supply of food. To me, that seemed odd.
The thought occurred to me that Tom Smith might be simply be out of shape. Had his increasing girth give him feline COPD? But I realized the answer lies deeper than that.
Creatures are desperate and greedy in situations where necessities are in short supply. But in this situation, Tom knew there would be plenty of "Friskies Surf 'n Turf" for anybody who was interested. After all, I faithfully put out food every morning. If we have an influx of neighborhood diners and the dish gets empty, I always put out a little more. Cats don't have to be greedy when they have a faithful supplier.
It's a lesson we humans need to learn. We spend so much of our lives worrying that there won't be enough. But Christians don't need to keep their eyes on the supply. They just need to give their hearts to the Supplier.
Dr. John L. Cash is the "Country Preacher Dad." He was raised in Stuttgart, Arkansas, and has spent the last 33 years being a country preacher in the piney woods five miles south of the little town of Hickory, Mississippi. He's a retired Mississippi public schoolteacher with grown sons, and is now a stay-at-home-grandpa to grandson Landon. (He hopes that granddaughter Eliza Bea will stay with him, too, some day.) He and his lovely wife, Susan, live in a brick house in town (where the two of them spent the week resting up from a wonderful spiritual retreat called "Cursillo.")  You can send him a note at brotherjohn@ilovechurchcamp.com .