15 Thanks be to God for His indescribable gift!  2 Corinthians 9:15
By Bro. John L. Cash
The Lord has richly blessed our family. This week He sent Susan and me our first grandchild. His name is Landon Madison Cash. He weighed 7 pounds, 3 ounces, and he was 20 inches long. He was born to my younger son, Seth, and his wife Leanne. We are pleased to report that mother, child, (and father) are all doing fine.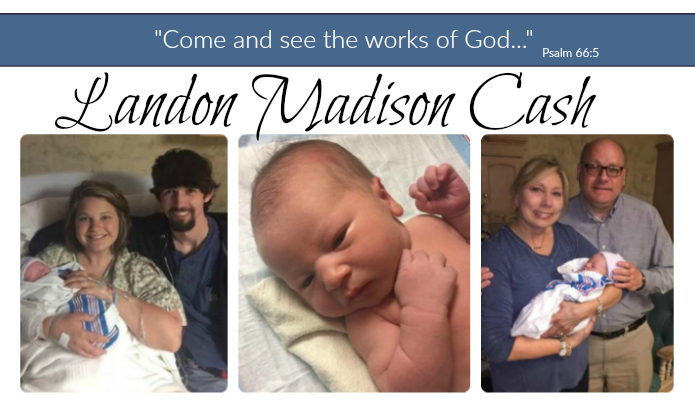 Usually I have a hard time writing a weekly column because I can't think of anything to write about. But this morning it's exactly the opposite. I would like to tell you exactly how wonderful it feels to hold my first grandchild. I'm trying, but it's just impossible. I just don't have enough words.
Later on, I'm sure I'll be able to tell you stories about the "little things." Until then, I'll leave you with some pictures and a Bible verse: Come and see the works of God; He is awesome in His doing toward the sons of men. ~  Psalm 66:5  (NKJV)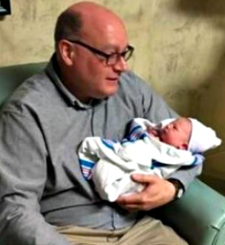 Dr. John L. Cash is the "Country Preacher Dad." He was raised in Stuttgart, Arkansas, and has spent the last 31 years being a country preacher in the piney woods five miles south of the little town of Hickory, Mississippi. (Until recently he had a desk-job at a public school, where he used to teach Latin on closed-circuit-television.) He and his lovely wife, Susan, live in the parsonage next door to the Antioch Christian Church (where Landon has a lot of people looking forward to meeting him.) Their kids include Spencer (age 25), his wife Madeline (age 25), and Seth (age 22), and his wife Leanne (age 21). You can send him a note at brotherjohn@ilovechurchcamp.com.
Save
Save
Save
Save
Save
Save
Save
Save