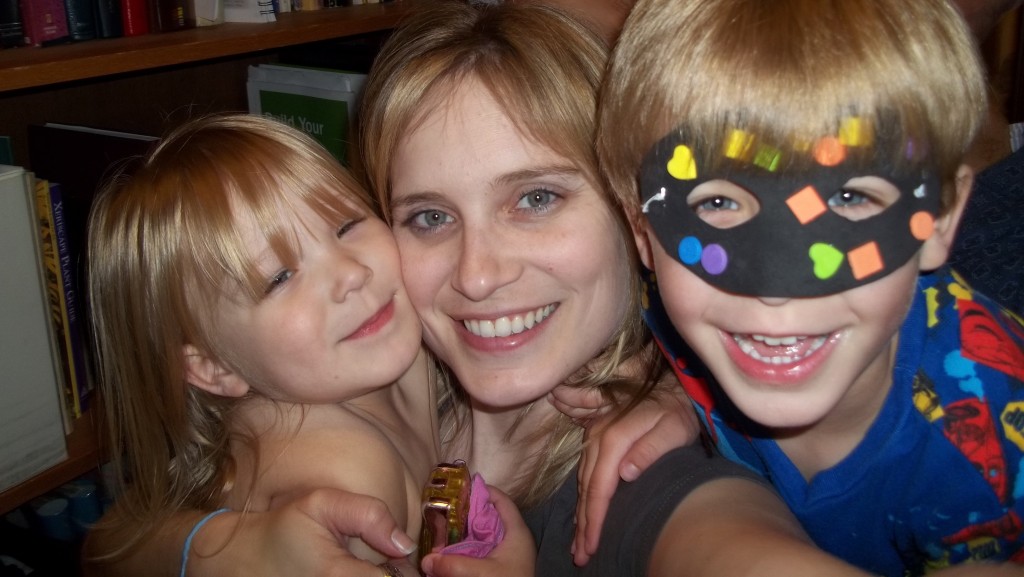 Name: Jennifer Fortenberry
Children's names and ages? Jacob, 5 yrs, and Madison, 2 1/2 yrs . They both weighed 7 lbs 14 oz when they were born, and could pass for twins.
Where are you from and how long have you lived in NWA? I grew up in Mountainburg and moved to Fayetteville  to go to the University of Arkansas. I met my husband there, and we bought a house in Lowell. We now live in the house in which he grew up in Springdale.
What's your favorite thing about summer? Spending Saturdays on Beaver Lake, and taking a family vacation to the beach.
Have you been on any fun vacations so far this year? We did go to Panama City Beach with the whole family – my parents, both of my sisters and their husbands and children. 16 people in all! It was a great trip.
Tell us about some of the traditions you've started with your kids: We go to church at the Johnson Church of Christ. The kids love bible class and learning various bible stories. Jacob has become a pretty impressive prayer leader and it makes my heart beam with pride to hear him ask God to care for others by name, as well as tell God 'No thank you for the devil'.
One tradition I grew up with and have been able to continue is on Christmas Eve we go to my parents' early in the morning for a big breakfast and share gifts with the family. That afternoon we go to my grandmother's and eat a huge lunch with her and all my cousins, aunts and uncles. We then go to a little community building at Locke where the kids take turns singing Christmas songs on the stage, and Santa comes and hands out candy canes and presents. I also write a Christmas poem each year to tell friends and family about our past 12 months and any exciting and funny things that have happened. We have taken the kids to several football and basketball games and we all love our Hogs.
What do you love doing in NWA with the family? We spend much of our weekend time outside, either playing in the back yard or at Beaver Lake. We love to visit Fun City in Springdale or Chuck E Cheese. The lights on the square at Fayetteville during the Christmas holiday are a fun tradition, and the Farmers Market in the same location is one of our new favorite spots to visit. Branson, MO, is just close enough for nice weekend getaways, especially during the 'off season' with little traffic. We are thankful to have our families close, and my husband's parents and sister and her family are so close that we are able to worship together and have Sunday lunches together as often as possible. Jacob starts soccer soon, and we look forward to getting involved with both his and Madison's activities.
What are three things you always have with you? My phone, debit card, and snacks for the kids.
 My pet peeve is …  bad grammar and misspellings.  My grandmother was an English teacher, and some of her lessons have stuck with me through the years.
One thing I have been meaning to do is: get my teaching certificate
Favorite hobbies? Braiding Madison's hair is my newest hobby. I love having a little girl to play dress up with. When I find time to read, I enjoy a good mystery novel.
At the end of the day, I unwind by …  getting the kids through their nightly routines of baths, teeth brushing, and stories read. I usually fall asleep as quickly or before they do!
One word to sum me up …  Blessed