T minus 2 days and counting… Can you believe it's already time for the kids to head back to school? The summer has flown by and, by Monday, most of us will be shuttling kids to school bright and early, packing lunches and supervising homework again.
We'll stop by Magic 107.9 Friday morning for our weekly mom chat with radio hosts Jennifer Irwin and Guy Westmoland, and we'll cover lots of topics that all relate to going back to school. Tune in to Magic 107.9 between 7:25 a.m. and 8:25 a.m. to join the discussion. Or click on the graphic below to listen to the radio live on your computer.
Here are a few of the things we'll be talking about on air today:
Fun back-to-school supplies and products we've found this year
New ideas for packing the lunch box
What should you do if your kid gets "the mean teacher"?
Helping your kid handle the emotional stress of a new grade or new school.
Here are links to a few of the products we'll mention or articles we read in preparation for this radio chat:
Important study about sack lunches, from CBS news.com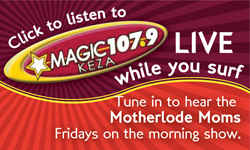 Save
Save