If you need some good ideas for what to do over the holiday break, Nerdies will be holding a week-long day session December 29-January 2 for kids ages 9-14.
This limited size, week-long day session will give your Nerd something amazing to do over the Christmas break and get them exposed to various areas while challenging them in a cool, relaxed environment.
More about the session:
Can you handle the Nerdies Winter Challenge? In this session your Nerd will join a team which will compete on a daily basis in several cool and challenging areas. They will fight robots, engage in hacking challenges, build a PC, program robots to accomplish certain tasks and compete on the final day in the Nerdies Double Secret Challenge. So get them out of the house and let them do something cool this Christmas break.
A word for the parents:
So Christmas is over and the kids are getting a little stir crazy. The Nerdies Winter Challenge is the perfect thing to get the kids out of the house and doing some amazing things. They will learn so much and not even know it. This session is  designed to get your Nerd exposed and fired up about STEM and all things Nerd.
Tentative Daily Schedule: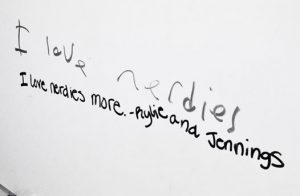 Monday: Sumo Robotics and Design Challenge
Tuesday: Robotics Programming Challenge
Wednesday: PC Build and Troubleshooting Challenge
Thursday: Hacking Challenge
Friday: Nerdies Double Secret Challenge
If you have questions feel free to reach out to Head Nerd in Charge Brad Harvey at brad@nerdies.me or call (479) 715-0622. CLICK HERE to visit Nerdies online and to sign up for a winter class.