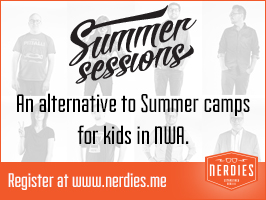 Some deserving Northwest Arkansas kids were presented NWA Nerd Award scholarships on Saturday to attend awesome Nerdies sessions this summer.
The best part?
All THIRTY of the kids who entered the contest were given a scholarship because several NWA companies stepped up to sponsor them.
The event was held at the Chancellor Hotel in Fayetteville and the Nerdies folks didn't let the parents and kids in on the secret until the end of the awards ceremony.
Here are just a few of the adorable kids who won scholarships:

We loved how each company's representative spoke about the contestant they had "picked" to receive the scholarships and what made that child special and unique. Then the students came up and accepted posters with their pictures on them and were awarded a scholarship to the particular camp they wanted to attend.
See how cool the posters are? We think the kids are pretty cool, too: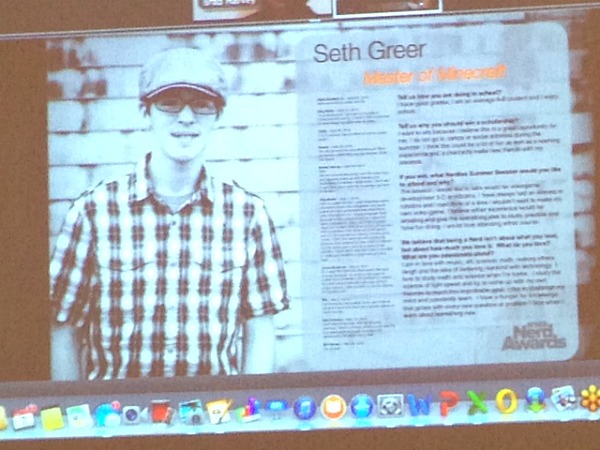 FYI: Nerdies has a campus in Fayetteville and now one in Benton County as well.

Nerdies summer camps include:
Mods for Minecraft
Photography
Robotics
Video Game Development
Music
Performance
And more!
CLICK HERE to go see all the camps and how to sign your kids up. Several of the camps are SOLD OUT, but there are still some spots available. They've also added some new camps.
Brad, Head Nerd over at Nerdies, said the non-profit Foundation for Nerd Advancement had a tough time at a recent board meeting trying to decide who would win the Nerd Award scholarships. Brad said that's when the magic happened.
The foundation started out planning to award only 10 scholarships, but companies like BlkBoxLabs, Cox Communications, Idea-Loop and Ozark STEM decided they wanted to do more. Nerdies also gave two more scholarships, which brought the total up to 20 kids who would receive scholarships. That was awesome, but there were still 10 more kids who had applied and the board meeting wasn't over yet.

"As we were breaking up to go home, I received an email from Tyson Foods stating that they would cover 10 kids. It was such an amazing night!" Brad said.
That meant that every kid who wanted to attend a summer session — studying everything from video game development to robotics to Mods for Minecraft — would be able to attend a Nerdies class.
Here's a list of all the kiddos who won:
Seth Greer
Jaxon Krueger
Alex Mancia
Dane Myran
Leah Becker
Aryana Amparan
Olivia Harrison
Izabel Crone
Declan Thiele
Sully Sanford
Stella Floyd
Elizabeth Harrison
Lily Davis
Madison East
Hayden Hehl
Joshua Kay
Jackson Lyons
David Rabelo
David Kay
Amelia Harrison
Kimberly Kay
Veda Farmer
Bianca Gear
Christopher Connolley
Jasmine Black
Izayah Townley
Louis Bimbi
Shannon Perry
If you'd like to sign your kids up for a Nerdies class, click here to jump over to the website and see all the awesome options.