If you love shoes and handbags, this is your must-attend event. The Walk a Mile in My Shoes fundraiser, hosted by Ozark Guidance, is THE shoe and handbag sale of the year. It includes new and nearly new shoes, handbags, accessories and more, and the prices are so legendary that you'll be bragging about your bargains for months.
Brand new name-brand running shoes donated by the event's presenting sponsor Rush Running Co. and high end designers will be sold for $40. Other brand new shoes/handbags will sell for $20, and nearly new shoes/handbags will be sold for $10.
You'll definitely want to go to the VIP Party on April 28, 2017 because you'll be able to see the full selection before the general public shops the sale during the next day. The VIP Party also includes food and entertainment. (It all happens on the campus of Ozark Guidance, located at 2400 S. 48th St. in Springdale.) Click HERE to get your ticket to the VIP event.
If your problem is that you have TOO MANY shoes that you don't really wear, this fundraiser could use your help. Donate some shoes and free up space in your closet for new shoes you DO want to wear. For more info on how to donate, call 479‐725‐5294.
New this year! The Walk a Mile in My Shoes event will also offer a 5K race and a Family Fun Walk this year. Click here for more info.
Why it matters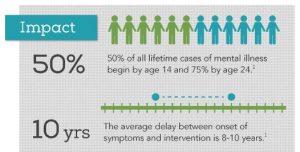 This fundraiser helps raise needed funds for behavioral health care. One in five adults, adolescents and children can have behavioral health disorders that interfere with the way they think, feel, and act.
Northwest Arkansas now has a population of more than 500,000. Potentially 100,000 NWA residents could need mental health services at some point, but many will go untreated due to knowledge, stigma, or funding.
When untreated, mental health disorders can lead to school and work failure, family conflicts, drug abuse, violence, and even suicide. (Last year there were more than 500 reported suicides in Arkansas, which means the state ranks as the 16th highest in the nation for suicides.)
Ozark Guidance is the nonprofit community based mental health provider serving Washington, Benton, Madison, and Carroll Counties in Arkansas. Each year, Ozark Guidance provides quality, compassionate mental health service to nearly 10,000 adults, children, and families.
Ozark Guidance is also the long-running sponsor of the "On Your Mind" feature here on nwaMotherlode.com. In this monthly column, counselors at Ozark Guidance answer questions from local moms who submit their concerns privately and anonymously via an "online hotline." For more info about this service, click HERE to see the On Your Mind category.
Save
Save
Save
Save
Save
Save
Save
Save
Save
Save
Save
Save