By Erin, mama to 2 boys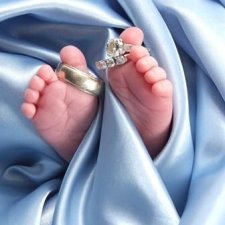 Yes, y'all it FINALLY happened after 17 months! Baby Shlomo, aka Solomon Lee, has joined our family. He was born on October 1 at 9:19 p.m., weighing 5 pounds and 7 ounces. We got our phone call from the agency on Saturday morning, and we were in the car by 2 p.m.
It is a crazy coincidence (or "meant to be") that we were already in Dallas this past weekend for my work and a visit to Michael's parents. Isaac stayed with his grandparents while we traveled to San Antonio to meet the baby and do all the paperwork. We arrived in San Antonio around 8:30 p.m. and headed "home" to Dallas around 12:30 the next afternoon. There is much more to tell, but I just want to give you a quick announcement and introduction!
We were in Dallas until all of the paperwork went through to allow us to leave the state with the baby. As you might remember, we went through some struggles with my in-laws regarding our plan to adopt.  It was meant to be, though, and Solomon's Meemaw and Zaidy were in love from the first moment they heard the news – Thank God!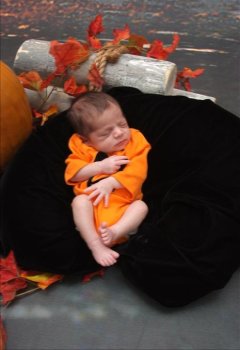 Michael flew home during the first week to do some work, take care of stuff around the house and pick up some "stuff" as we have nothing with us (thankfully my in-laws have lots of baby stuff including a car seat)! Michael's trip to Fayetteville was lengthened by some surprise glitches in our adoption paperwork, that necessitated a drive to Little Rock and back to take care of! Our stay in Dallas ended up about 12 days longer than anticipated due to paperwork issues allowing us to come home, but we finally hit the road after 20 days on Wednesday, October 21! We are so glad to be home, and Solomon has hardly noticed his change in surroundings! Solomon is an "easy" baby so far (knock on wood one thousand times), and is growing like a weed – already up to 7 pounds and 4 ounces!
So, please welcome Solomon Lee Cohen, named in blessed memory of my wonderful Mother, Sharon Lee Myers. He is a gorgeous baby, and we are already much in love (Isaac is not so sure yet, he's pretty disinterested, but in a positive way).
Solomon's bris (the Jewish circumcision and naming ceremony) was in Dallas on Tuesday, October 13. The circumcision went well, the ceremony was lovely, and Solomon and Isaac were showered with love, attention and gifts! In Judaism, it is customary to name a baby in memory of a loved one who has passed away. We never thought we would be naming in memory of my mother – always intended to name in memory of one of OUR grandparents like Isaac is – but that was not to be. It is also customary for the parents or grandparents to talk about the baby's namesake at the bris – the characteristics and qualities of the loved one they hope the baby will have). It was hard to write, but I did it.  Michael had to read the first paragraph because I was crying, but I got it together and finished it. More later on our journey to bring Solomon home . . .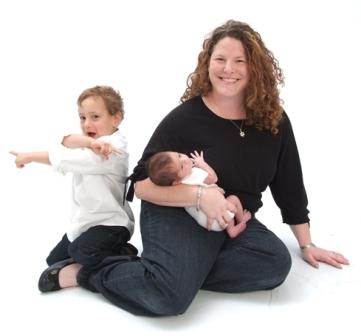 More about Solomon's namesake: Solomon Lee Cohen is named in loving memory of my Mother, Sharon Lee Barenblat Myers. Although we miss her terribly, and our grief is still very raw, we are so proud to name our precious baby boy in her memory. She would be so happy and thrilled . . . so amazingly supportive and overjoyed at Solomon's arrival in our family.  She waited with us, lived with us during our struggles and long tenuous wait to bring both of our children into our family. She was with us for the first 10 months of our long wait for Solomon, not to mention all of the preparation we did to be eligible to adopt. I can just imagine now what her reaction would have been upon hearing the news last Saturday morning. She would have simultaneously jumped up and down and cried with joy. Then she would have gone straight to the computer to book a flight to be with us!
Solomon – She would have loved to hold you, play with you, and just bask in the joy of her gorgeous grandsons. As for your Daddy and me, we wish for you to have some of the wonderful qualities that your Grandma possessed. The humbleness and ease in which she lived her life — her calm, comfortable, easy presence, that made her so easy to be around and helped her to feel at ease in all situations – we wish that gift for you.
To care for others whole-heartedly – to care about their feelings, stories, reactions, and lives, and to listen and help others really feel that they are understood and appreciated. We hope that your efforts in life will be based on goodness and respect for others, regardless of what you choose to pursue. We hope you will embrace the qualities of dependability, loyalty, openness, and hard work that she possessed, as you grow into the unique person you will become.
Finally, Solomon, let the legacy of her gentle, good spirit guide you in life.  For you, our greatest desire is to have a life full of love – to love others and to be loved in the way that your Grandma did. If you can accomplish that, you will be as blessed in your life as she was in hers.